Aussie Kiss Ten: 
Click on the banner to find out all you need to know about the event...

The Student Windsurfing Association proudly presents the Student Windsurfing Festival 2011 - Aussie Kiss 10!
It's once again, time for the UK student population awaken from a long summer slumber of endless daytime TV, to head back to Uni for some more day time TV! (and the odd lecture, of course). However, one other thing which is also due to return from a summer vacation, and will certainly draw some of the student community away from The Jeremy Kyle Show, is the prevailing South Westerly.
It's every UK windsurfer's favourite time of year, with a sea that's been heated by a couple of months of warm (ish) weather and there is still a little daylight still remaining. Nationally, windsurfers have become fixated by their favourite wind app, anxiously waiting for the Guru to flick the magic switch. But something even more unusual is brewing... an invisible force, combined with the promise of an epic weekend of windsurfing and one heck of a party, is pulling students from far and wide to Bude North Cornwall; time for the annual Student Windsurfing Festival 2011 – Aussie Kiss 10.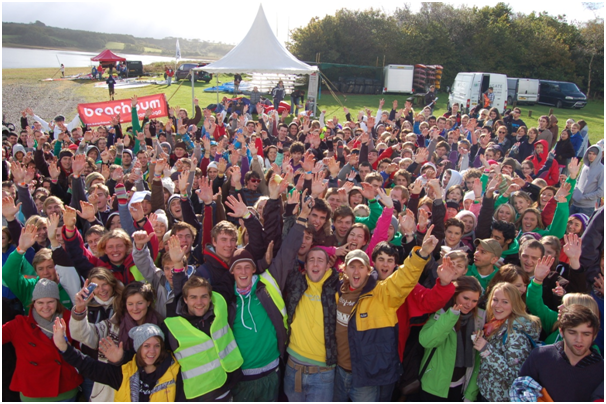 Aussie Kiss 9



Now in it's 10 year the nationally renowned student windsurf festival has really grown up. Taking place at Bude Holiday Park and Roadford water in Devon on Saturday 22 and Sunday 23 October 2011, Aussie Kiss (AK) provides the first taste of the season for student windsurfing, a chance for university windsurf clubs to unite under the mature umbrella of the Student Windsurfing Association (SWA).
Catering for all, AK proudly boasts the greatest number of beginners on the water of any national event providing an introduction for those new to windsurfing and setting the stage for the top UK student windsurfers to show off their swagger. Every year there is record sellout and this year will be no exception, all 600 tickets are expected to disappear faster than electronic goods from Tottenham; proving that Bude Reservoir is the only place to be! Throughout the weekend an army of qualified instructors and some of the UK's, and the worlds, best pro-windsurfers will be on hand to help take your windsurfing to the next level.
Simon Bornhoft has made it his personal ambition coordinate and run the WORLDS LARGEST windsurfing clinic. We of course, welcome a challenge and are working relentlessly to ensure this will happen. We need YOU! Come and be a part of windsurfing history! Guinness world records have been informed and depending on their organisational skills, an official may show up to make it legitimate.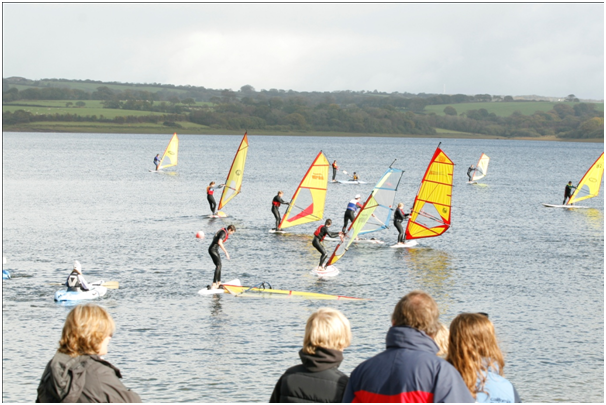 Beginners looking good at AK 9



The weekend will also feature clinics by other industry celebrities such as Adam Sims and Chris Murray and free sailing will be running all weekend. So if it's your first time on the water or you're looking to crack that front loop, there will be someone kicking around who can help you out. If you don't have any kit, don't sweat, Boardwise, RRD, Ezzy, Gaastra, Tabou, Spartan, Puravida and Turfdog will be demoing their 2012 wares (kit for all abilities) along with new to the UK KA Sails, giving you the chance to try out some of the newest and shiniest gear on offer and maybe even win yourself a souvenir. Beginners, intermediate and advanced windsurfers are invited to represent their University in fun racing, freestyle and team racing competitions.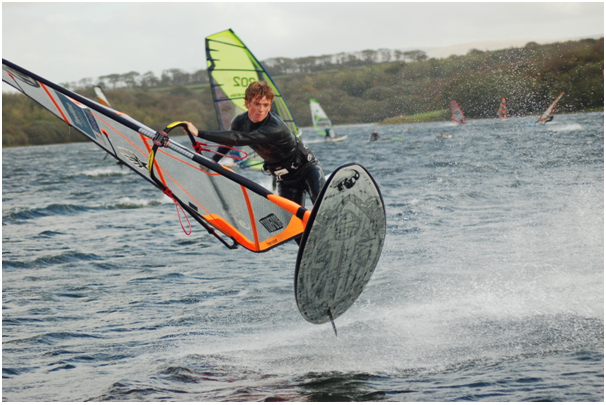 Adam Sims – pro freestyler



After an epic day at the lake, Saturday night sees the infamous AK party, fancy dress compulsory, carnage guaranteed. The best windsurf party to be found anywhere, this year with a naughty "Aussie Kiss XXX" theme taking the inter Uni competitions of the day to a new arena on the dance floor.

Check out the forum for the latest fancy dress shotguns.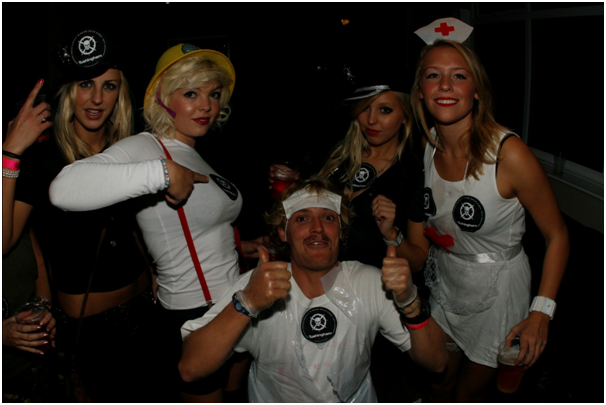 The AK Party – Fancy dress is not optional



Further support is once again provided by Red Bull who will be bringing a festival atmosphere to the lake with music and enough of their stimulating energy drink to rouse even the hardest party goers. If you don't fancy getting wet there will still be plenty to do; FLOW (for the ladies of windsurfing) will be on hand to attract the better sex to this beloved sport, hosting a get-together to talk about 'windsurf- chick stuff', Turfdog will be demonstrating some basic skills and also introducing the concept of land based freestyle, the Roadford reservoir assault course will be open to all those brave enough to take up the challenge and a beach volleyball tournament (no doubt a very competitive one) are just some examples of other surprises the SWA has in store for this weekend of dreams.
Can't make it to Aussie Kiss? You'll be missed. But not to worry! Aussie Kiss is just the first of many amazing SWA events coming soon to various parts of the UK. Bring on the good times ahead!
For more information and event signup, visit www.studentwindsurfing.co.uk
Words by Will Jones
Pictures by Javier Choi and Jay Haysey