What words can we use to explain the awesomeness of Boardwise? ... Well I suppose awesome is a good place to start!!
Their trusty van is ever present at SWA events throughout the calendar, lending out £1000s worth of kit to windsurfers of all abilities. We are delighted to have them as a Platinum Sponsor for the 2017-18 season!
Boardwise are a UK-based boardsports company who have been in operation for over 30 years. Their enthusiastic team of watersports boffins are always on hand to lend friendly advice, making sure you find the equipment you need. There is no item big or small that Boardwise don't offer, UJs, Extensions, Rope, Footstraps, Fins, Harnesses and Lines, Screws, the lot! It's a one stop shop of super stock!  On top of this Boardwise are able to provide a speedy, professional repairs service for all dings and punctures, this can be easily arranged and collected at any SWA core event, well handy!
Whilst they can cater extremely well to our speciality of windsurfing, Boardwise also provide equipment for other Watersports including Stand Up Paddleboarding (or SUPping, which features frequently in SWA Low Wind Olympics), as well as just your standard surfing and bodyboarding. Of course, boards aren't just needed on the water and Boardwise also have a range of snowboard equipment and accessories for those winter months where the lakes are frozen over! If there's one thing you can rely on, it's that Boardwise are happy to give out their specialist knowledge and good advice when buying any board-related kit.
I can still remember the first time I showed up at an SWA event, a pure beginner who had never touched anything on a windsurf rig before. Boardwise were there helping me find equipment and get out on to the water for the first time and although I'm borrowing harnesses now instead of buoyancy aids, I'll know the kit van will still be there years later, helping the next generation. Boardwise are part of the SWA family!
We love you Boardwise!
To check out all that Boardwise have to offer check out their website: http://www.boardwisecannock.co.uk/
Tel: 01543 505084
Email: This email address is being protected from spambots. You need JavaScript enabled to view it.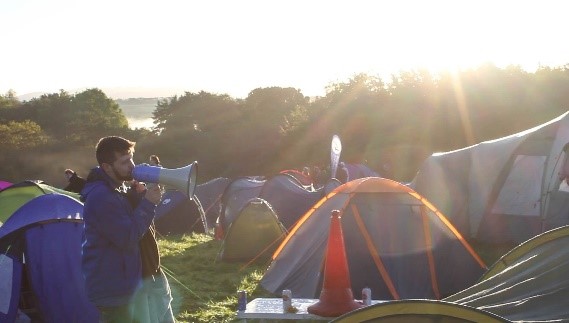 In 2016 Aussie Kiss changed it's format, and for the first time in the event's history students were permitted to camp right at Roadford Reservoir. This made the event the most intimate experience yet. Camping is always a fun and social way to escape the stress of urban living and breathe in the country fresh air to chill out for a weekend. With no travel requirements Saturday or Sunday it's as easy as rolling out of bed on onto a Windsurf… Just the way we like it.
It's likely that most of those looking to attend Aussie Kiss have spent a night in a tent, but it's always worth skimming our top camping tips to be sure you're up to scratch and you don't forget any campsite essentials!