| | |
| --- | --- |
| | Portsmouth Wave Event 2012 |
This year's first round in the 'Puravida SWA Wave Trilogy, supported by Fanatic & North' took place in Portsmouth and, in true Portsmouth style; the initial lack of wind and waves didn't stop proceedings.


Friday night saw the arrival of the various universities who all came to the Student Union to meet their hosts, an exciting scene set to the backing music of some truly quite awful Karaoke singing. After settling into their host's abode, everyone headed out again to the double trouble combination of a club and a bar known as Lyberry and Pure. The night went off without a hitch bar some questionable pole dancing which almost irreversibly testicularly damaged some of the male pretenders.


The following morning the gang headed to the pub for a well-deserved breakfast which was needed to settle stomachs and focus minds in preparation for the intense game of pitch-and-putt golf that was to follow. As we headed to the seafront to crack on with some golf there was a brief opportunity in which the windsurfers could look around at the beautiful, clear, sunny, still day which to any normal person might describe as idyllic, and all agree that a rain windy day are still so much better.

 


 

The rules of golf were simple: get the ball in the hole in as few hits as possible; if it took you more than six shots you lost an item of clothing, if you managed it in few than six you could gain an item of clothing if you wished. These rules were mercilessly enforced by Carl Lobato who wanted it to be made clear that he did particularly well in the golf especially "in one shot that was really close to going in in one" although, any evidence or confirmation of this really happening is yet to be found. 
 

After a golfing session that showed you're not necessarily naturally well-co-ordinated just because you're a windsurfer we retired to the Hosts' houses to refuel with pizza, in preparation for the evenings' festivities. At 8.30 everyone headed to Social Sec Ette's pad for pre-drinks in the compulsory Christmas attire; this was the first time everyone had got together and we made a fantastic, although slightly worrying looking, group. At half ten we set off to take control of Babylon and The Fleet; a pub and club combo promising to make any child of the nineties swell with a shameful pride at some of the music created. And take control we did, boogying the night away to Cotton Eyed Joe and the likes.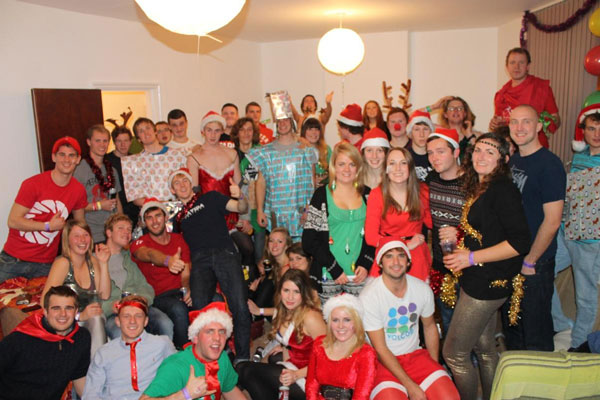 After far too few hours in bed it was a 6.30am wake-up call with bread and bacon galore used to motivate the somewhat fragile windsurfers into car packing fun. This motivational tac-tic appeared to work and everyone managed to make their way to meet our hosts 2xs on the sandy beach of West Witterings.


The conditions were not the perfect down the line sailing however all sailors made the most of what was out there. The completion was put on hold due to light winds but only for a mere 30 minutes. The competition was expertly judged by Chris Muzza Murray from Tushingham and Starboard and Simon and James from 2XS who we are especially grateful to for letting us hold our event at their location as well as helping with the running safety. Demo kit was available from North / Fanatic which Sam Latham Kindly brought down from us and it was great to see it out on the water all day!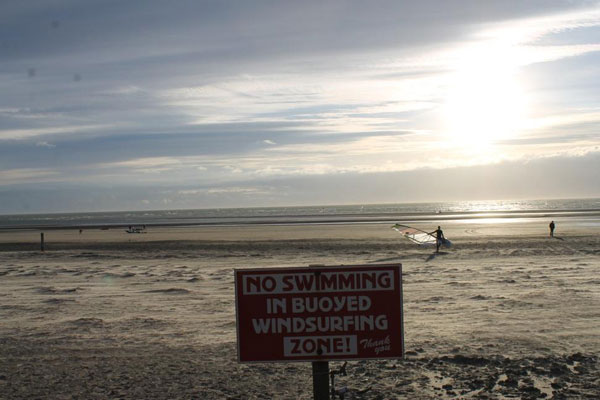 Initially the plan was for the judges not to score on the wave riding and decide on the winner from the overall impression of jumping only, however, after the first heat, it was clear that the carving up of the waves could not go ignored. The competition had the format of ten minute heats with a twelve minute rolling clock which meant quick paced action as well as windsurfers running about the beach to be in the right place at the right time. Some fantastic windsurfing ensued. It was a tough competition with some incredible riders. Due to the small waves the freestylers of the tour where shinning through.

 
---
Jim Brooks, Puravida - "The conditions looked average at first but we were all super impressed by the standard of sailing in the comp, with guys busting out forwards and riding nicely straight off the beach in heat one! It was a great comp to organise and judge showing what talent there in among the university clubs"
---

 
The women's competition found 1st place going to solid performance from Jo Wright - Exeter University,  2nd place to Rachel Ince, also from Exeter Uni and 3rd to Sooz Kallegher of Cardiff University. The Men's competition saw Southampton's Ben Page fight hard to take 1st, 2nd went to Adam Chubbock from Southampton Solent university who won his heats solidly all day, and finally  Ollie Acton coming 3rd from Solent Also with good wave and freestyle skills.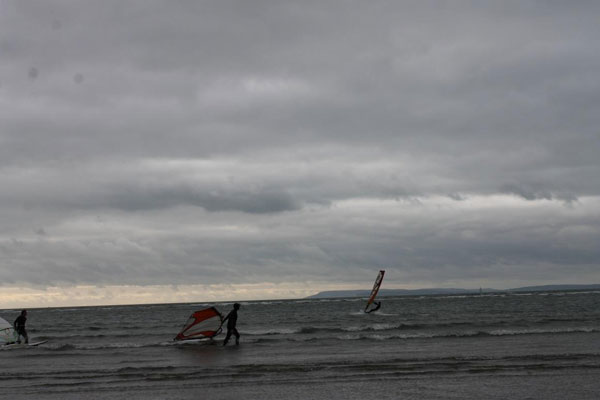 A huge congratulations to all of the weekend's competitors, be it getting in the water, holding a flag or even a spot of break dancing!
 

A massive thank you again to Simon and James from 2xs for helping run the event at West Wittering which I'm sure you can all agree is an amazing set up. Jim from Puravida for helping the running of the event making everything work like clockwork, Puravida Boardriders are the series sponsor along with kit from Fanatic and North so expect to see him again very soon. The Guys from Silverstick for donating a Prize for the winner of the Girls Comp. Spartan Wetsuits for also donating Prize. Supersaturated for their Prize donations. Redbull for keeping lots of peoples energy levels up even after lack of sleep.
---

This was a great start to the wave series and I'm sure you are all looking forward the next one! Please take time to look up the following sponsors and see you in the new year.

Puravida (Series Sponsor) - www.puravidaboardriders.co.uk/

2xs (Event Host) - www.2xs.co.uk/

North / Fanatic (Demo kit) - www.k-66.com/

Silverstick (Prize) - www.silverstick.co.uk/

Spartan (Prize) - www.spartanwetsuits.com/

Supersaturated (Prize) - www.supersaturated.net/

Redbull - www.redbull.co.uk/

Fleet and Babylon (90's) - http://www.fleetportsmouth.co.uk/