The Competitions
– Push your limits, take to the water and claim your glory and riches! 
Racing – Are you feeling lucky?!

At Aussie Kiss racing is for all abilities. For the advanced a flat out slalom style race. Competitors will have to battle their way through a series of heats to earn their place in a final. This is a one design event – i.e. all competitors use the same kit. The boards will be RRD Fireraces (kindly provided by Boardwise and RRD) and Tushingham express 7.5m sails, pooled by all universities at the event. Guaranteed to be a high speed event! (Please note – competitors will be disqualified if the kit is mistreated)

Racing is not solely for the advanced sailors. Racing will also be available to those who consider themselves intermediate level and beginners who are completely new to the sport. Short courses, race clinics and simple races, with the emphasis much more on fun than competition. Make sure you get involved!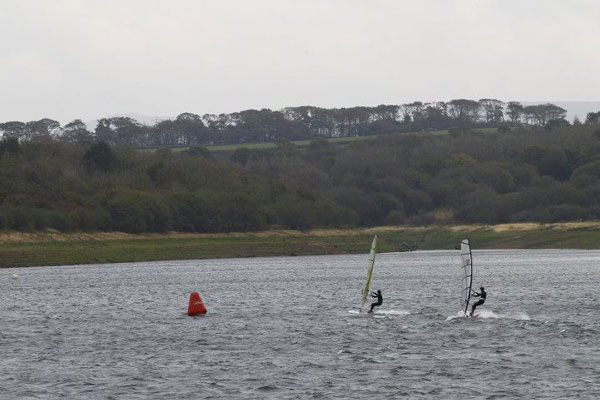 Racing at AK
---
Team Racing – Boost your cances and beat the luck of the draw by working as a team!!

Each university puts forward a team of three sailors (more than one team per university is permitted) for an out, gybe and back relay race. This will be another one design race using 7.5m Tushy Express sails and RRD Firerace boards. Teams will compete in a series of heats in order to go through to a final round. Always a good event to watch. (Please note – teams will be disqualified if the kit is mistreated)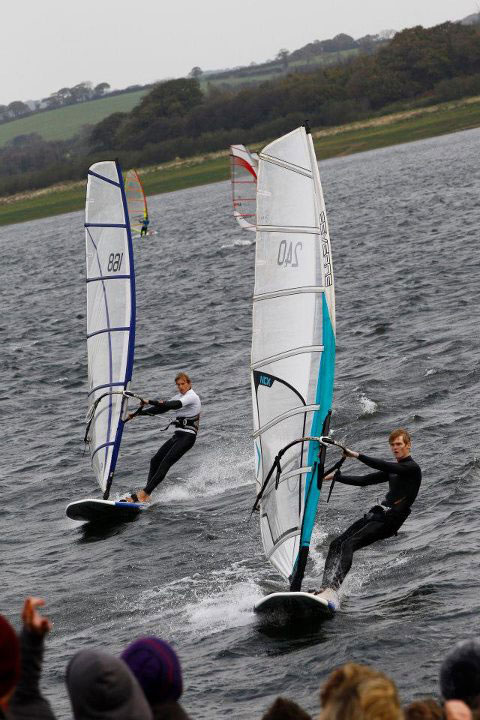 Coming into the finish at Aussie Kiss X
---
Freestyle – Apparently the best way to use windsurfing to improve your luck with the opposite sex!!
The jewel in the crown of the Student Windsurf Festivals competitions! Expect big moves, big cheers and big crashes. If the wind is not deemed strong enough for planing freestyle (the decision on which will be made by the SWA events team) the event will switch to light wind freestyle. Tow-in freestyle will also happen, it's tricky to do and great to watch. Competitors are pulled at 40 knots behind a rib before releasing themselves and launching into their most crowd pleasing trick. Tow in will be awarded prizes at the event but will not count towards the series. The planing/light wind Freestyle competition will count towards the SWA series, with large prizes going to the slickest windsurfer at the final event, BUCS Nationals in April.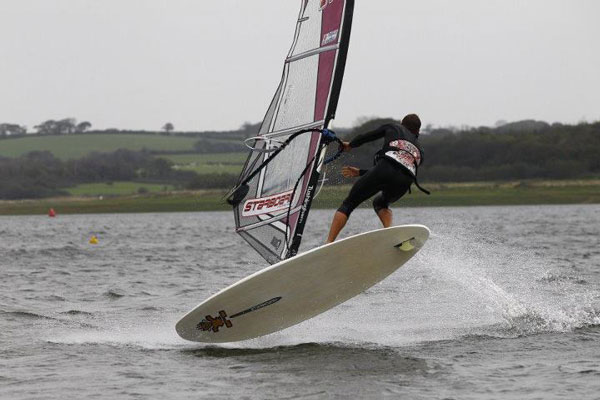 Freestyle by Pip Pardoe
---
Signing up for competitions

Sign up for competitions will be open on Friday 6th November from 6pm to 12 midnight at Bude Holiday Park and Saturday morning 9am to 12 mid day. More opportunities to sign up may be available as detailed in the morning briefing at Roadford Reservoir on Saturday. All those wishing to compete must sign up in advance of the competition.

Do not just turn up at the time of the first heat, you will not be able to compete.