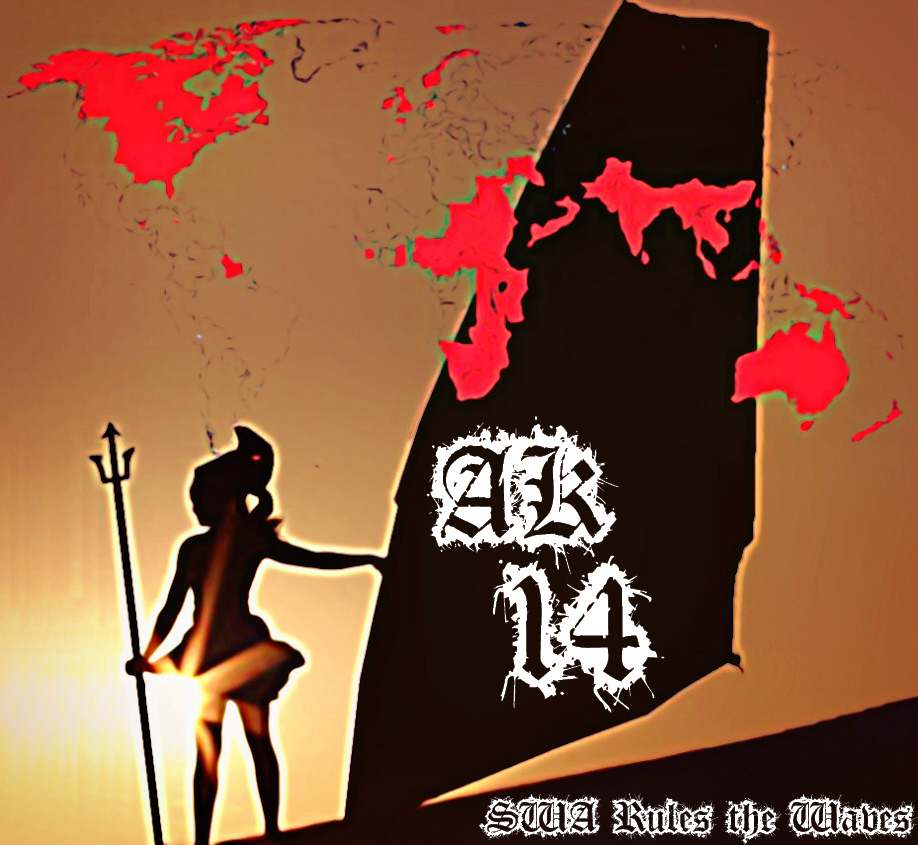 Ladies and gentlemen of the SWA, Aussie Kiss is upon us once again
In its fourteenth year the event will tip its hat (and glass) to both the sailors of old and windsurfers of not so old as we bring you...
Aussie Kiss 14: The Age of Discovery - SWA Rules the Waves
That's right, people will literally fly in from around the globe, drive until red bull can keep them awake no more, and sell all their worldly belongings (we may exaggerate a little) just to be part of the phenomenon that is Aussie Kiss 14 – The Age of Discovery: SWA Rules the Waves
To find out more about this years AK take a look at the sections below!
If you have any questions then get in touch with your clubs president or the SWA committee!! 
General Info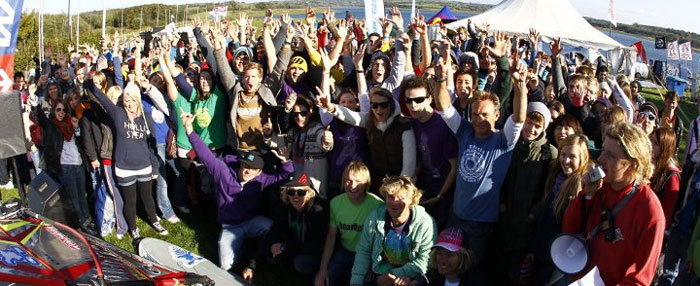 Bude, Cornwall is once again the spectacular location and the weekend of 6th-8th November.
We have sooo much in store for this year's festival. For the tidy sum of £55 you get:
Caravan accommodation for two nights at Bude Holiday Park
Two breakfasts
Two days of windsurfing at Roadford Lake with 100s of other windsurfers and instructors on the water creating a unique and super awesome vibe
Friday night party to get to meet some life changing people and unwind for the epicness of the weekend ahead
Industry sponsors demoing kit, selling winter essentials and generally looking cool
Lots of really insightful clinics for all abilities, ran by industry leading legends
Full RYA standard instructor lead beginner sessions
Inter-club competition kicking off the SWA 2015/16 series
PRIZES!
AND OF COURSE…The epic, unrivalled, mind blowing, out of control Saturday night Fancy Dress Party that is on another scale!!!
Get your creative minds together and come with your very best, downright genius take on the theme of The Age of Discovery: SWA Rules the Waves
At this point wipe off the drool from your keyboard and head straight to studentwindsurfing.co.uk (if you're computer hasn't packed up from all the drool) and buy yourself one of the golden Aussie Kiss 14 tickets!!
(Party only tickets available for £40 (doesn't include windsurfing). Instructor tickets available for £35)
Getting Tickets
Before you can get tickets to an SWA/PARTY/INSTRUCTOR event ticket you must become an SWA life member for just £5. Simply follow the link to the left in the side bar to get your membership now!

If you want to go, ask your Club President. He/She will then register you for Aussie Kiss. 
This does NOT reserve or confirm your ticket for Aussie Kiss. Your ticket is only yours when you pay for it.
If all of the tickets are sold before you get around to paying for yours then we are very sorry, but you should have been quicker off the mark.

What this means to you:
Ask your president to register you for a ticket.
Once registered GO GO GO. Buy it before your place is taken by someone else.
Log onto the SWA website, go to Events >> Tickets
On this page you should see all tickets you are able to purchase, click on the ticket that you want!
Pay for it.
Congratulations, your place at Aussie Kiss is now confirmed!
Glory in the news that you are going to the best festival on the planet!
SWA Windsurfing Tickets: 
First batch to be released between 5th & 11th October.
Windsurf, Party, Compete! – Set sail in style and explore! - £55
For the full experience of an SWA event this is the ticket that you need. An SWA ticket gets you full access to the weekend's activities. Included in the price: two nights accommodation at Bude Holiday Park, breakfast Saturday and Sunday morning, an event T-shirt, full access to the Roadford Reservoir, use of all demo gear, participation in tuition sessions/clinics, party ticket for Friday and Saturday night, enjoy all the bands, enjoy the festival.
Tickets are grouped by your ability! If you need your ability changed please email This email address is being protected from spambots. You need JavaScript enabled to view it. (sorry as you can not currently change this yourself)
Party Only Tickets: 
First batch to be released between 5th & 11th October.
Relax, Party, Enjoy The Festival – Every ship needs a crew! - £40

A Party ticket gets you: two nights' accommodation at Bude Holiday Park, breakfast Saturday and Sunday morning, an event T-shirt, access to the Roadford Reservoir (Party ticket holders are not permitted to windsurf at Roadford Reservoir), party ticket for Friday and Saturday night, enjoy all the bands, enjoy the festival.

Once you have bought a Party ticket, we cannot upgrade you to a full SWA (windsurfing) ticket, so please keep an eye on how many windsurf tickets are still available before buying a Party ticket. Remember, we release the windsurfing tickets in batches.
XSWA - Party Only Tickets: 
First batch to be released between 5th & 11th October.
Relax, Party, Enjoy The Festival – Every ship needs a crew! - £40
An XSWA Party ticket gets you: two nights' accommodation at Bude Holiday Park, breakfast Saturday and Sunday morning, an event T-shirt, access to the Roadford Reservoir (Party ticket holders are not permitted to windsurf at Roadford Reservoir), party ticket for Friday and Saturday night, enjoy all the bands, enjoy the festival.
INSTRUCTOR:
First batch to be released between 5th & 11th October.
Come to Aussie Kiss as an Instructor/Powerboat Driver - Explorers need guidance! - £35

The SWA expects to see a greater number of beginners on the water than any other UK event. To ensure they are given the best introduction possible to windsurfing, we need instructors.

In exchange for teaching you will receive a ticket at the heavily discounted price of £35 (that's almost half price!!) allowing you all the same benefits as a full SWA ticket: two nights' accommodation at Bude Holiday Park, breakfast Saturday and Sunday morning, an amazing exclusive instructor event T-shirt, full access to the Roadford Reservoir, use of all demo gear, participation in clinics, party ticket for Friday and Saturday night, enjoy all the bands, enjoy the festival, rule over all of the beginners.
In order you purchase your Instructor ticket you need to first register your qualifications with the SWA. To do this click on the Account menu and then 'My Qualifications'. Here you can upload images of your certificates which will then be approved by the SWA committee. Once approved you will see Instructor tickets if they are still available!
Getting There
The Student Windsurf Festival is split across two locations; Firstly accommodation and the famous Aussie Kiss party will happen at Bude Holiday Park, this is where to head when you arrive on Friday night (6th November). Secondly, the windsurfing and festival side will be happening at Roadford Reservoir. Here are the details of the venues for your sat nav:

Bude Holiday Park: Accomodation Venue
Maer Lane
Bude
Cornwall
EX23 9EE

Roadford Lake: Windsurfing Venue
Lower Goodacre
Broadwoodwidger
Lifton
Devon
PL16 0JL

Travelling from Bude Holiday Park to Roadford Lake:

What will the wind be like at Aussie Kiss?
Is this your first Aussie Kiss ? ? ?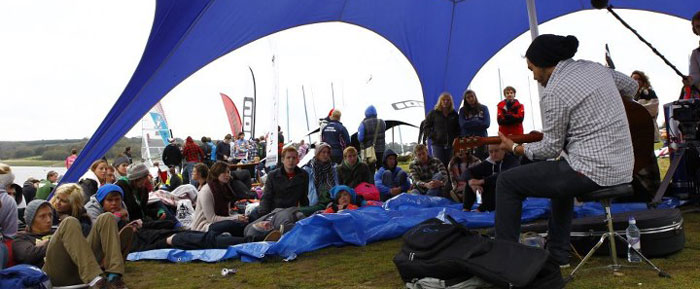 First things first…make the right choice!
When your club's committee tell you how "AK is the best event of the year, you are going to freaking LOVE it and you really don't want to miss it"…they are telling the TRUTH! This event will set you up socially for the rest of your university life. So make the right choice and respond with "Hell yes…I. Am. In!".
So you've decided to go….what's next?
You are about to become a lifetime member of the Student Windsurfing Association. "And how much will this lifetime membership of awesomeness cost?" we hear you ask…Well you aren't going to believe this, but a lifetime membership of the SWA and access to tickets for every event (FOREVER!) will set you back the almost unnoticeably small sum of just £5! (We know how you feel, pretty damn kick-ass right?!). You also need to get your hands on your club's super-secret password, just ask your club President. This is to stop non students turning up at SWA events, some of these passwords are pretty damn kick ass too...right?!

OK, so you're a fully-fledged SWA member…looks like it's time to get that all-important ticket!
The diverse range of universities that attend SWA events is undoubtedly the reason why they are so much fun, and we do our best to make sure every one of their members gets the opportunity to purchase this life-changing ticket. To make this happen, tickets are released gradually during the course of the run up to the event. To get your hands on one, simply let your President know you want to go, he/she will sign you up, and then go to the 'Event Payment' link on the 'User Menu' on the left hand side of your screen (hint: you need to be logged in to see this).

Hang on a second, there's more than one ticket to choose from?!
You're exactly right, there are a few different ticket options; but to keep it simple…if you want to windsurf at the event get a Beginner, Intermediate or Advanced ticket. If you won't be windsurfing (or miss out on the windsurfing tickets) don't panic…you can still do what hundreds of others do every year and come along for the party and the banter by buying a Party ticket (formerly known as the XSWA ticket).

Now, to put your minds at rest here are a few frequently asked questions answered in typically awesome SWA-style:

How on earth am I supposed to get to Bude?
Don't panic, your club's committee will help you organise this. Ask your President for more information.

Where am I going to sleep?
Bude Holiday Park has hundreds of fully-fitted caravans with a bed for everyone…all you need to do is bring a sleeping bag.

Will I know anyone in my caravan?
YES! We do our very best to ensure you are placed in a caravan with fellow club members next to the other caravans housing the rest of your club. This means you can chop and change and pick your van-mates for the weekend as best suits you.

Am I going to be warm enough?
We really hope so! That said, it can get chilly at this time of year so make sure you bring warm clothes for the days at the lake, something wind-proof and a nice warm hat (although there will also be nice warm hats on sale from the lakeside stalls). The caravans have heaters so you should be fine there but worst case simply make like an Eskimo and share that body heat!

I haven't had a chance to windsurf with my club yet, can I windsurf at Aussie Kiss?
ABSO-FRICKEN-LUTELY!! AK brings together hundreds of windsurfers from all over the country, but even more importantly it single-handedly introduces more beginners to the sport than any other event of it's kind. There will be instructors everywhere and professionally-run tuition for all abilities. Trust us when we say there is no better place to give it a go than at Aussie Kiss!

Are we staying at the lake?
Not exactly. The lake is a short drive from where we will be staying, so you'll need to be prepared for two days away from the caravan site.

Do I need any special footwear?
WELLIES! WELLIES! WELLIES!...it is a festival after all! We aren't talking Glastonbury levels of mud, but it never hurts to bring a pair of good old reliable wellingtons!

So what's this I hear about a fancy dress party?
AK is famous throughout the windsurfing world for throwing the best, most hilarious fancy dress party out there. This is your opportunity to show the world how you and your club roll. Most clubs go with a unified theme which will help you find each other in the club during the party.

Speaking of the party…where exactly is it?
The parties on both Friday and Saturday nights both take place within stumbling distance of the caravans in the onsite venue at Bude Holiday Park. There is a dancefloor, stage, "facilities" and of course (most importantly) A BAR! (The SWA promotes responsible drinking)

Is there food?
YUP! You get breakfast included on both days! During the day there is food available to purchase at the lake and there is a fast food shop onsite at the holiday park. Every caravan has a cooker and microwave so for those who want to cook their own food, you can do that too!

Are there any shops nearby?
There is a supermarket in Bude town centre (about 5 mins by car) and there is a small shop onsite.

Can I get cash out at the Holiday Park?
Sometimes…but it's not guaranteed. Best advice, bring whatever cash you are planning to put behind the bar with you (it'll just avoid unnecessary disappointment!). You can restock during the day between the lake and the holiday park.
The Tuition and Clinics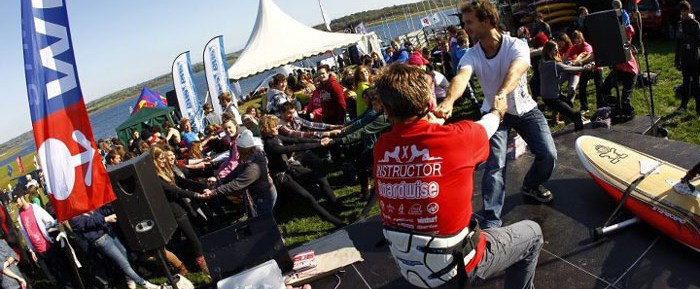 Instructors
The main aim of the SWA is to get people windsurfing. As ever at Aussie Kiss there will be a small army of instructors on hand to help those new to windsurfing onto a board for the very first time. The majority have probably spent the summer teaching in better climates so will be full of energy, extremely knowledgeable, on top windsurf form and outrageously tanned. If you are a beginner these are the people you need. The event really couldn't happen without these guys so make sure you show your appreciation to them with drinks on Saturday night. On top of that we have recruited the best coaches in the business to come along to Aussie Kiss to help you take your first steps on a windsurf board or push your windsurfing to the next level.

If you are interested in instructing at Aussie Kiss please see more information on the getting tickets page.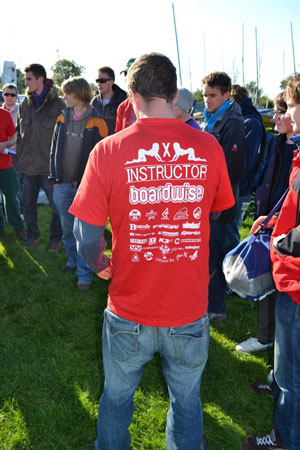 The Party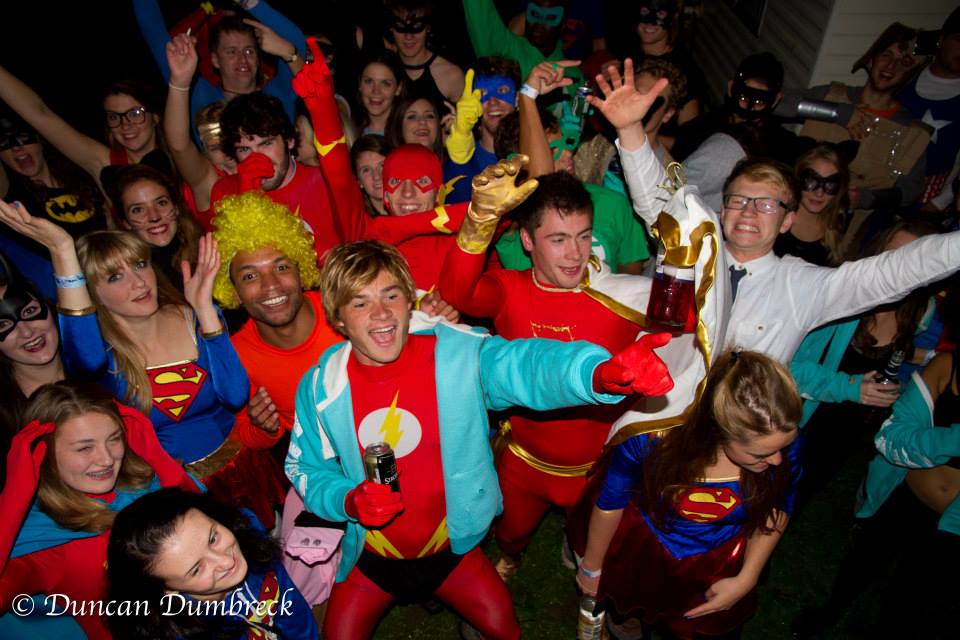 The globally infamous Aussie Kiss party returns! This year's theme:

AK14 - Age of Discovery: SWA Rules the Waves

The themes are rolling in...check out the Facebook event to see the 'shotguns' so far!

If you've not heard about the Aussie Kiss party before:

Think hundreds of students packed into one venue. Think a mixture of sing along classics and filthy dub step. Think amazing drinks deals. Think of the best fancy dress you've ever seen. Think about a life changing night that will keep you coming back to Aussie Kiss year after year. And don't think about the next morning!

The Acts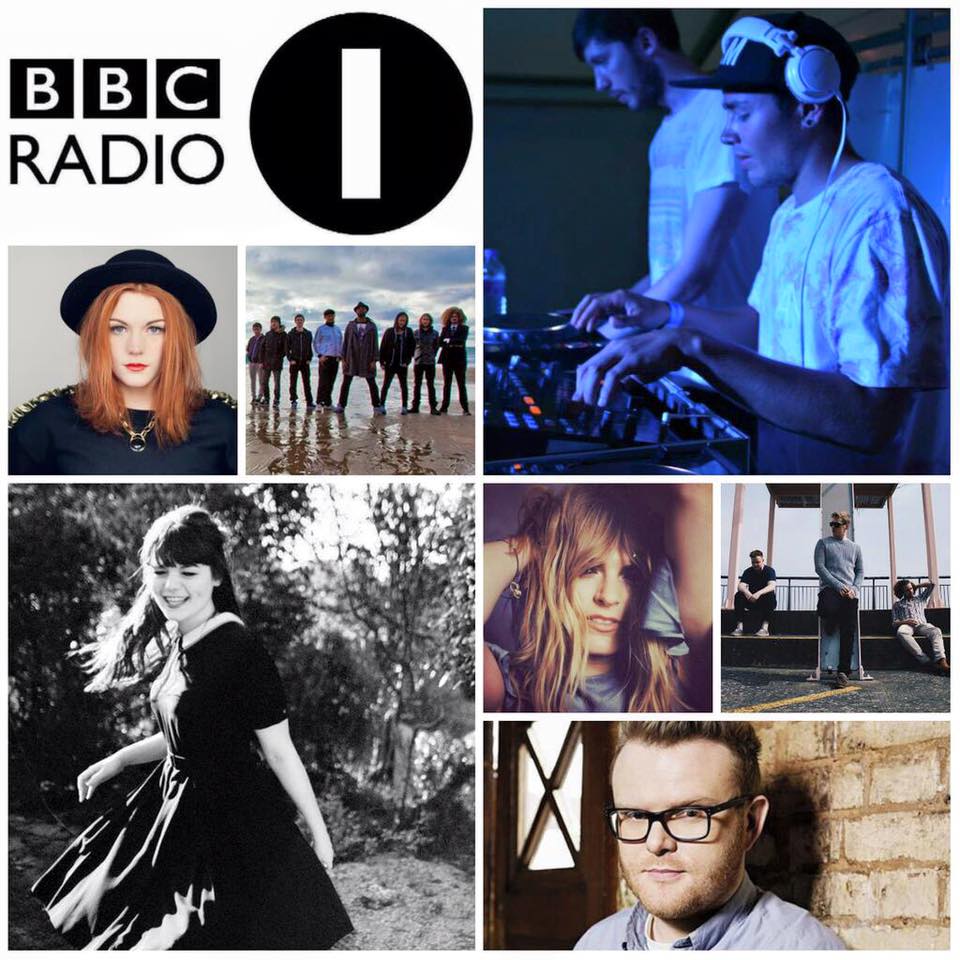 We are hugely lucky to have Red Bull setting us up with their full Funktion1 Sound System again this year, and we've put our heads together to find some fine talent to find the on button and make music come out...

Headlining this year we have Alex 'Cuzo' Mancuso from the epic Duplex Sound, with support from Sam Watson and some electrical Jazz from SAXADAN, with others to add!

Duplex Sound has been a huge act in London, the South West and abroad the last few years, featuring at Hijacked Festival, BBC Introducing, The Red Bull Air Race and much much more so we are super excited to have them along!

Duplex Sound is a dynamic house duo that first gained recognition after the release of their first track 'Nobody' which was quickly signed by Ensis Deep Records. Since then they have had a massive amount of attention on BBC Introducing with Danny Howards broadcasting them on Radio 1. 



Sax a Dan is a very sexy sax playing man called Dan. Based north of the M4 corridor where no sane man would ever go, Dan is lighting up the North and keeping those grim whitewalkers north of Hadrian's Wall. Long Live the finely balanced duo of English and Welsh universities! He puts his genre down as a 'Jazz Blues House Contemporary Pop' and will be doubling up his fine sax skills with demo-ing for Patrik Sailloft and wooing the ladies with his fine facial hair.

Here he is sereneding your lady. You haven't got a chance.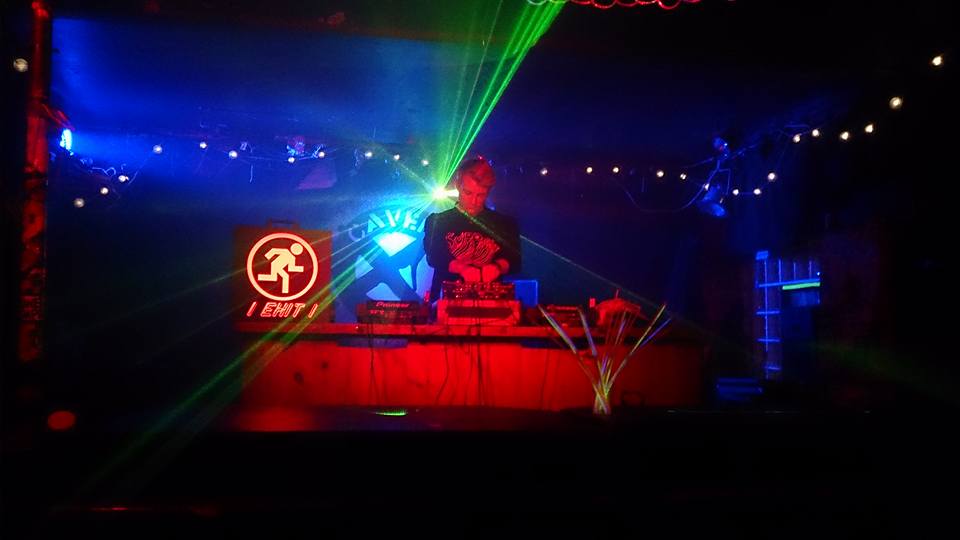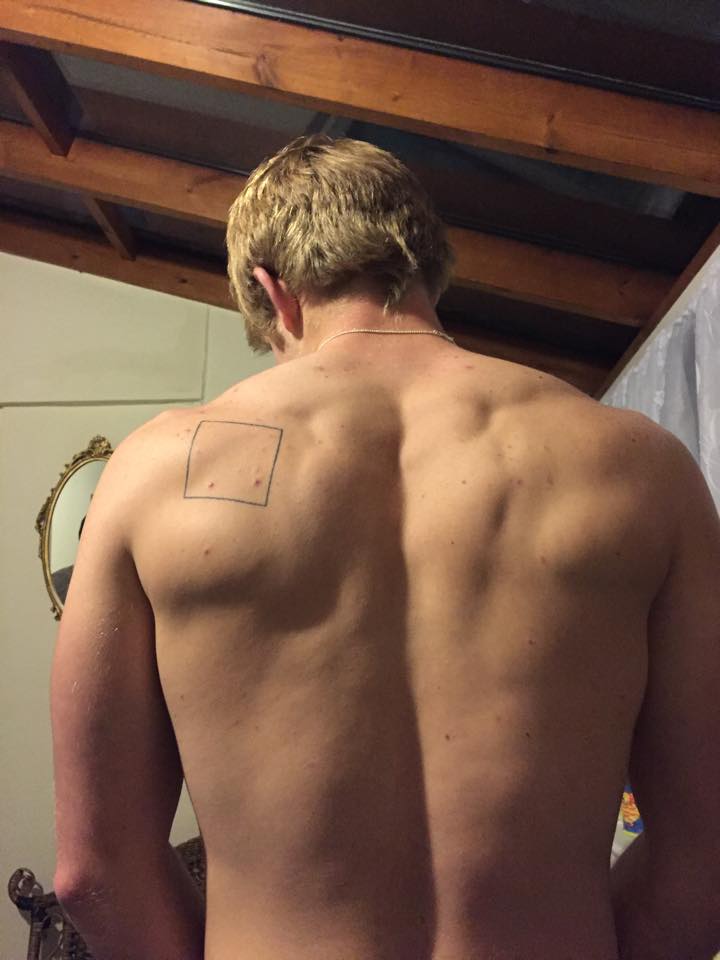 (he's gonna kill me when he sees this)

Last but definitely not least is Sam Watson from Quadras Music. An up-and-coming Student DJ in the South West and Manchester has been featuring heavily at Exit and Fokus Promotions, he might be new but he's certainly making waves and his soundcloud is definitely worth a listen.

If you were wondering about the above image, here at SWA HQ we were lucky enough to get a scoop from the Exeter Windriders Committee about the very secret, hugely hilariously reason behind the brand name Quadras, due to some questionable possibly drunken decision-making at a dodgy tattoo parlour on a typical Exetah Gap Yah to South East Asia. Yes he did find himself. I don't know if he regrets it. Why don't you ask him at Aussie Kiss!?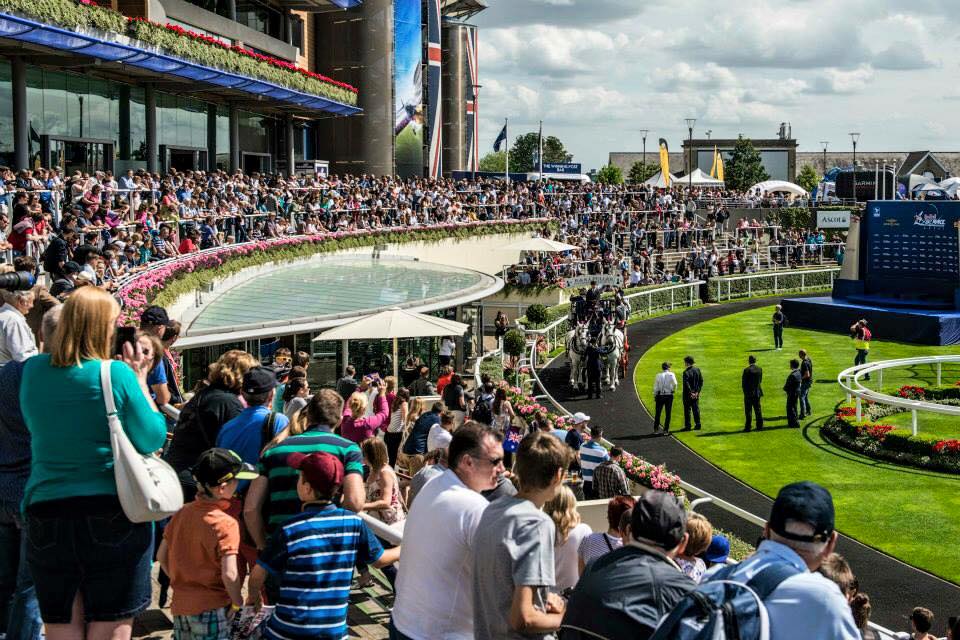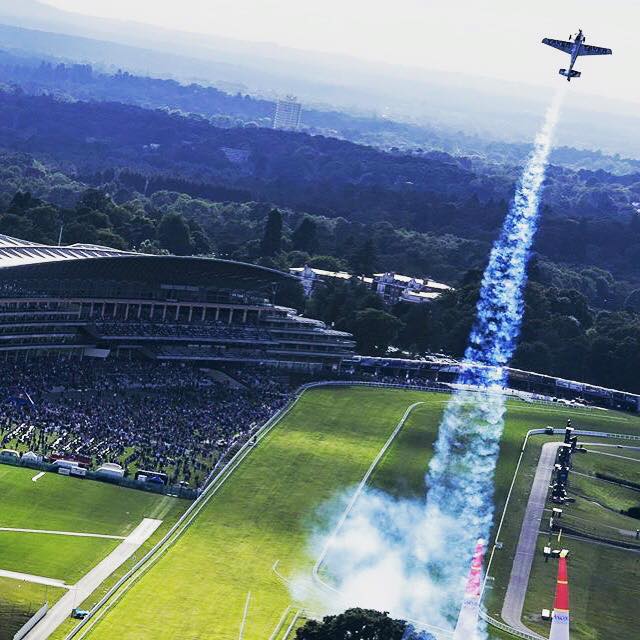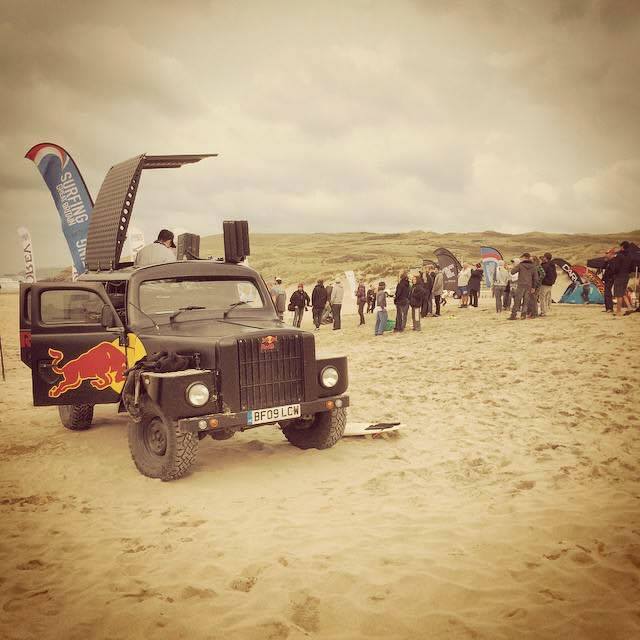 (Duplex Sound played at numerous Red Bull events this summer, along with Mode London, Boardmasters and Marbella)

If there's any other live acts that want to get involved for a set at all over the weekend, there is a free mainstage all day both days for acoustic or otherwise sets as Duplex will be on the Red Bull stage in the days, we'd love to have you! Give us a shout at This email address is being protected from spambots. You need JavaScript enabled to view it.)
The Competitions
– Push your limits, take to the water and claim your glory and riches! 
Racing – Are you feeling lucky?!

At Aussie Kiss racing is for all abilities. For the advanced a flat out slalom style race. Competitors will have to battle their way through a series of heats to earn their place in a final. This is a one design event – i.e. all competitors use the same kit. The boards will be RRD Fireraces (kindly provided by Boardwise and RRD) and Tushingham express 7.5m sails, pooled by all universities at the event. Guaranteed to be a high speed event! (Please note – competitors will be disqualified if the kit is mistreated)

Racing is not solely for the advanced sailors. Racing will also be available to those who consider themselves intermediate level and beginners who are completely new to the sport. Short courses, race clinics and simple races, with the emphasis much more on fun than competition. Make sure you get involved!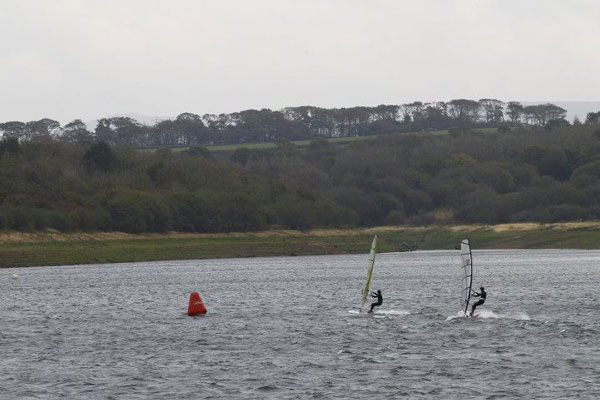 Racing at AK
---
Team Racing – Boost your chances and beat the luck of the draw by working as a team!!

Each university puts forward a team of three sailors (more than one team per university is permitted) for an out, gybe and back relay race. This will be another one design race using 7.5m Tushy Express sails and RRD Firerace boards. Teams will compete in a series of heats in order to go through to a final round. Always a good event to watch. (Please note – teams will be disqualified if the kit is mistreated)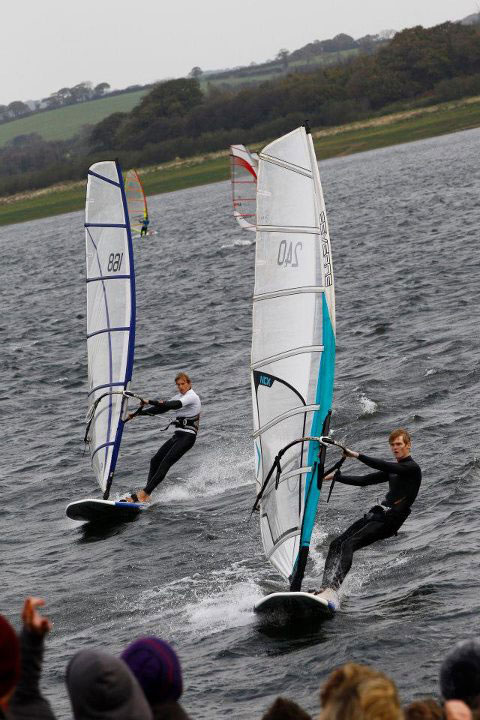 Coming into the finish at Aussie Kiss X
---
Freestyle – Apparently the best way to use windsurfing to improve your luck with the opposite sex!!
The jewel in the crown of the Student Windsurf Festivals competitions! Expect big moves, big cheers and big crashes. If the wind is not deemed strong enough for planing freestyle (the decision on which will be made by the SWA events team) the event will switch to light wind freestyle. Tow-in freestyle will also happen, it's tricky to do and great to watch. Competitors are pulled at 40 knots behind a rib before releasing themselves and launching into their most crowd pleasing trick. Tow in will be awarded prizes at the event but will not count towards the series. The planing/light wind Freestyle competition will count towards the SWA series, with large prizes going to the slickest windsurfer at the final event, BUCS Nationals in April.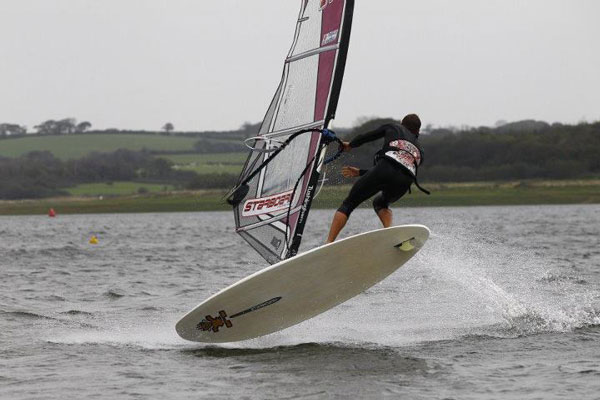 Freestyle by Pip Pardoe
---
Signing up for competitions

Sign up for competitions will be open on Friday 6th November from 6pm to 12 midnight at Bude Holiday Park and Saturday morning 9am to 12 mid day. More opportunities to sign up may be available as detailed in the morning briefing at Roadford Reservoir on Saturday. All those wishing to compete must sign up in advance of the competition. 

Do not just turn up at the time of the first heat, you will not be able to compete.