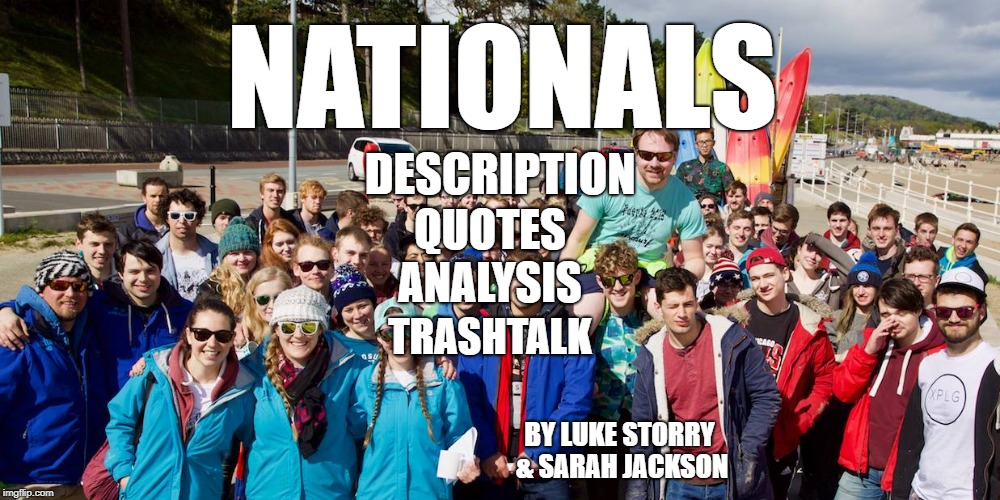 The SWA Nationals, often fondly referred to as "Lashionals", is a crazy weekend of indoor camping and partying with all of your best windsurfing friends. It is also windsurfing's only BUCS competition, so there is also going to be some more-serious-than-usual racing.
There are a range of races for all abilities, as well as team-racing and freestyle. All of these categories come with a huge variety of prizes from our incredible sponsors, such as windsurf equipment, a massive selection of stash (including one of those fancy new dryrobes you've seen around, t-shirts, and the awesome SWA sunnies), a weekend of top-quality windsurf coaching and even a crate of beer!
Intro Over - Let the quotes begin!
It is time to buckle your seatbelts as we're about to take you on a journey through a few weeks worth of interviews, collated into a large collection of stories, tips and trash-talking, with a few even packaged as memes of dubious quality…
Let's start things off with the SWA-pro, raceboard-legend and wave-master that is Louis Morris: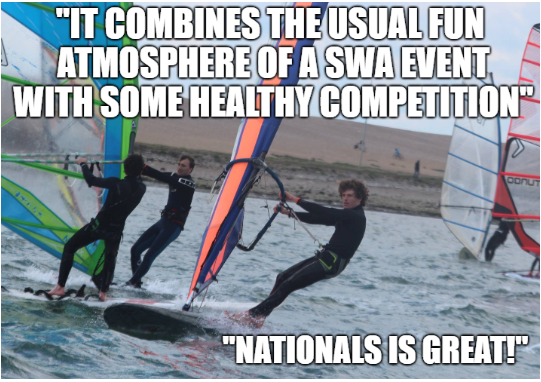 "It's always awesome to see so many windsurfers of all levels competing at the same time, there's nothing else like it … except Aussie Kiss"
If you attended this year's AK, you will know that the windsurfing was epic but the camping field was not!
Don't worry though - camping at Nationals will be INDOORS this year!
So it'll be lovely and warm and dry, the perfect place to stumble back to and rest before racing!
Back on the topic of racing, Matt Barton, previous BUCS winner and member of the GBR Olympic Podium Pathway Potential squad, told us: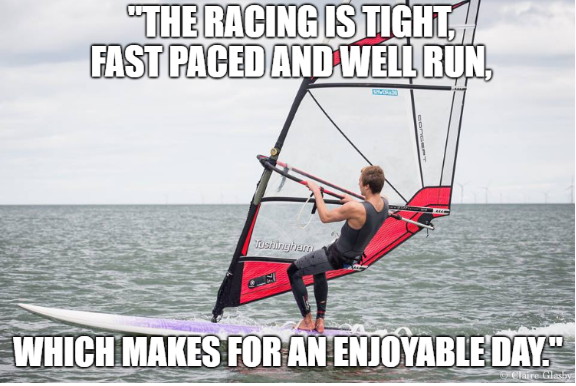 "Student Windsurfing Nationals brings together all windsurfers from all disciplines to fight it out for BUCS glory. The races are short and intense which makes it fun, and manageable for those feeling a little fragile from the night before. Student Nationals have been a lot of fun over the past couple of years."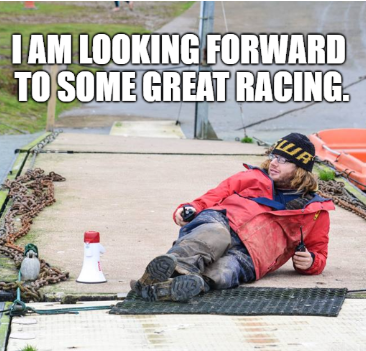 Although we're expecting many big names from the world of international racing, our Racemaster Taffy is planning to make the event as friendly as possible to the student budget, and let the results be down to skill instead of nice kit:
"In terms of course setting I am going to do everything in my power to punish the chances of those on expensive race kit, so expect almost no upwind sailing, to give normal windsurfers on freeride kit a decent chance if the wind is there."
 David Salmon, aka the FGP has this to say: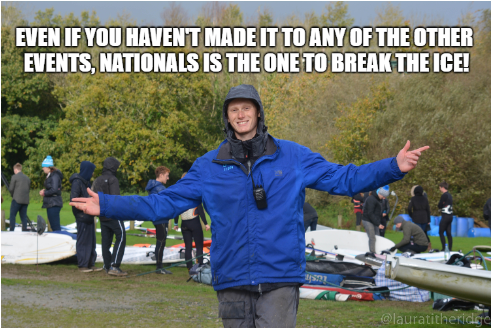 "Nationals are always a great finale to the windsurfing season, a chance to catch up on all the news and reviews from the other events, see all the SWA friends and family again, and not least to party wildly! As the last event of the year, spirits are always high, and, after some quality windsurfing and exciting racing on the beaches of North Wales, the scene is set for two nights of raucous hilarity."
Nicola Hanson may be big fan of leading the pack when it comes to the sesh, but unfortunately her brief foray into racing a few years ago didn't go down so well, according to the quotes she sent us: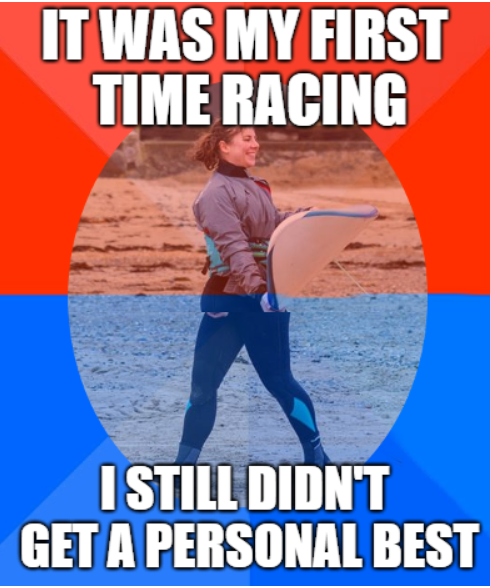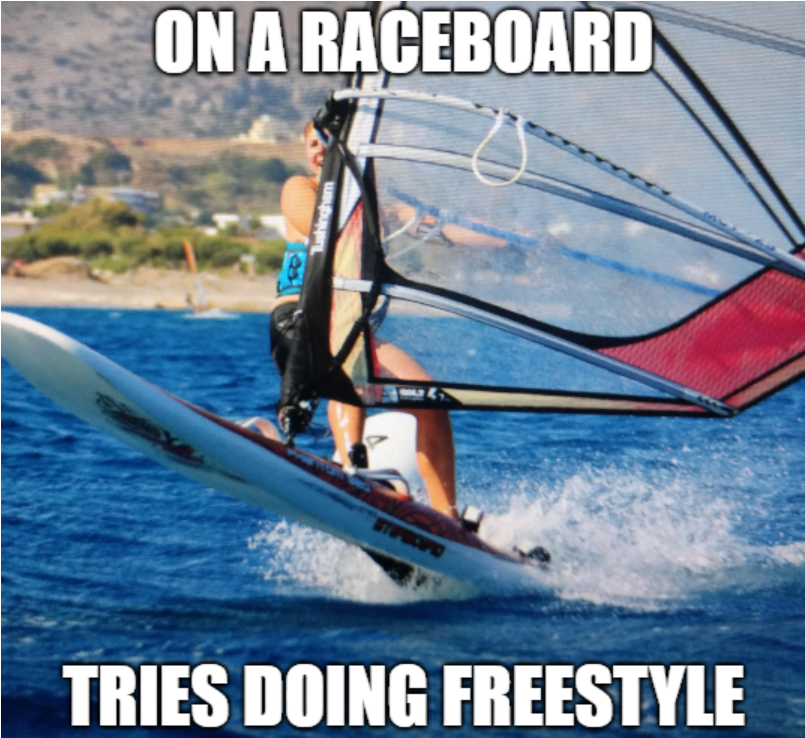 Male Advanced
Last year's winner, Matt Barton (Exeter) of the British Sailing Team's RS:X Podium Potential Pathway Squad, has graduated and "is gutted not to be able to compete this year", leaving last year's silver medallist and British Sailing Team teammate James Hatcher (Exeter), to prop up the Exeter team: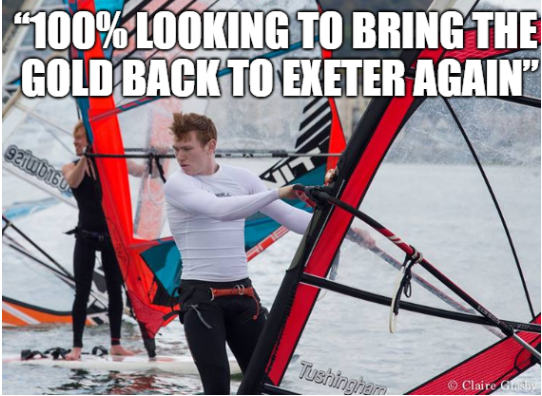 James is also hoping to enjoy this year's event much more now he knows how it works: reflecting on last year's races, and the diversity that the SWA and Nationals brings, he says: "It's a very different style of event to what I'm used to which caught me off guard, leaving me on the beach with kit issues on the first gun. It's always good to see other people our age out on the water pushing themselves and enjoying the sport."


Last year's podium was closely contested by Ben Bulson (Bristol) who sources say has been in winter training alongside his younger brother James, British Junior #2. Ben commented: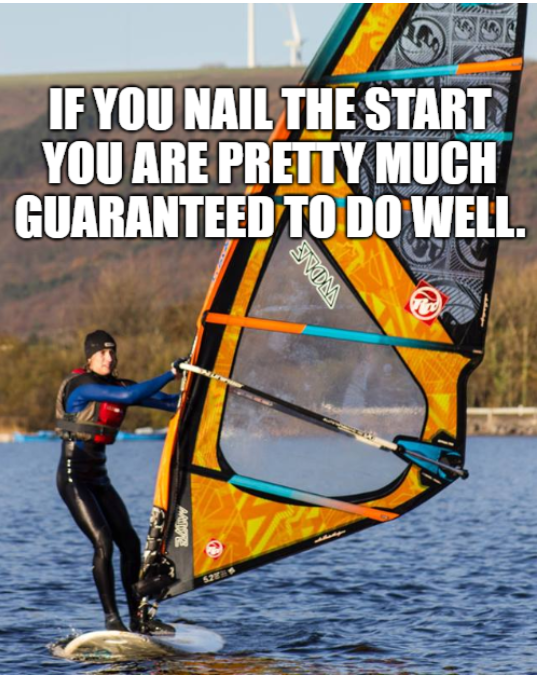 "My advice for the racing would be to practice the proper racing start before the event."
With an RSX World Cup Event falling on the same weekend, some of the British Sailing Team are going there instead, because they're scared after some of the team failed to make the podium last year! Hopefully next year World Sailing will make sure they sync up their calendars properly to make sure prestigious events like these don't have to be forfeited. This will, however, leave the field wide open for competition.
Fresh face on the SWA scene is half Maltese, half Malteser Matt Carey (Bristol). Although no one has ever seen him step foot in the country, apparently that is enough to race for them at the Olympics and we have had official confirmation that Matt will be challenging for this years BUCS title.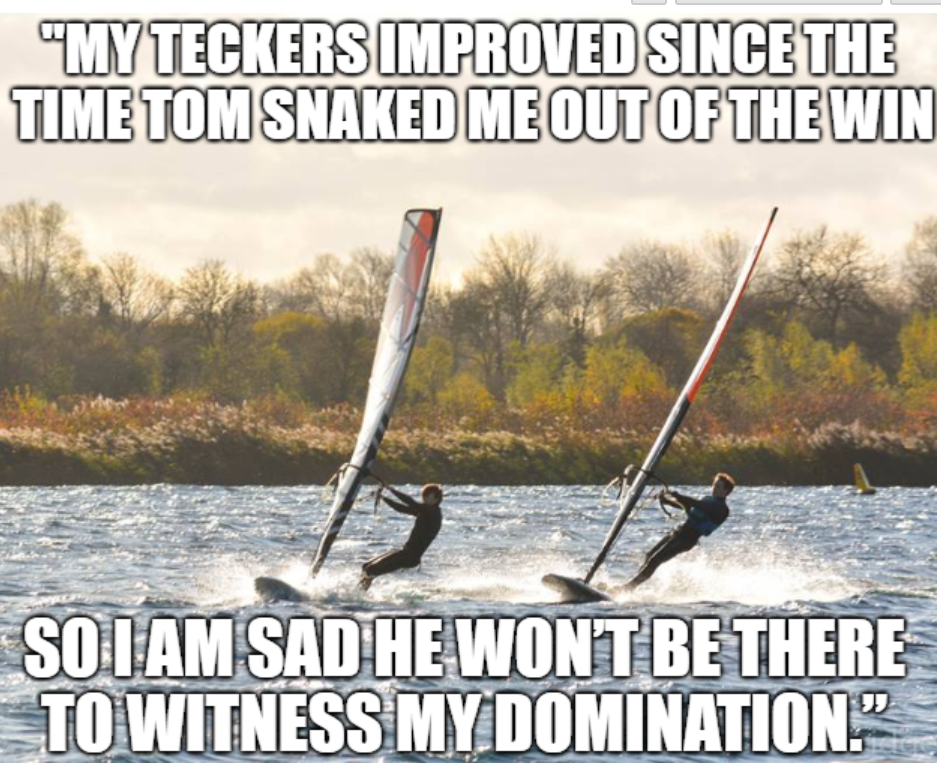 Rumour has it that he won't be missing out on any 2020 training in the process and will be cycling up to Costa del Colwyn. Hopefully once there he can win a medal, instead of the paper plate award he was jokingly given by his club for coming second in his last SWA race: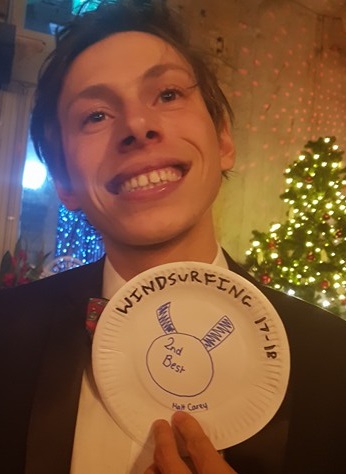 "I'm very much a real malteser. I don't really know what to say, Cadbury's named it after me."
It's not all about the RS:X boys though - some of the SWA's very own will definitely be challenging for the top spots.
Matt Duffin and James Arney from Bristol have both been dominant forces on the SWA series this year, and although raceboarder Thomas Sambrook may have had his eyes on the BUCS Gold, having won most of his races at events so far, we hear he is possibly unable to make it to the event due to a clash with exams.
One to watch however will be Luke Storry (Bristol). After dominating the Intermediate fleet last year, Luke will be making the transition to advanced racing this year. Although the step up will be tough, a season in Vass last summer saw a huge improvement and Luke will be back to try and cause an upset amongst the top dogs.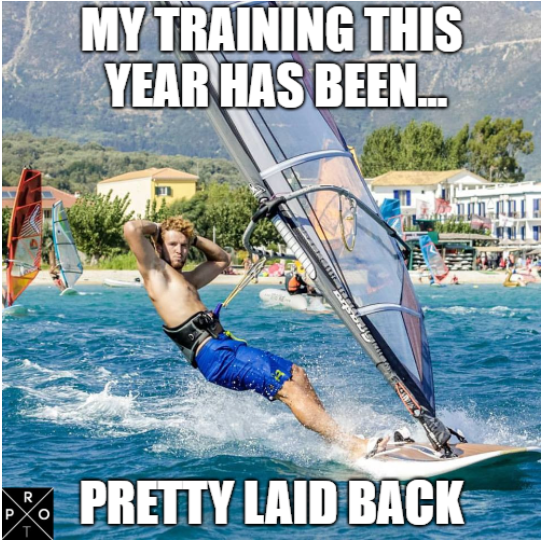 Another SWA demon, and fellow Vass seasonaire Teifion Luckett, who graduated from Cardiff last year and now races for Liverpool whilst he completes his masters, reflects on his first ever Nationals, back when it was held at Weymouth: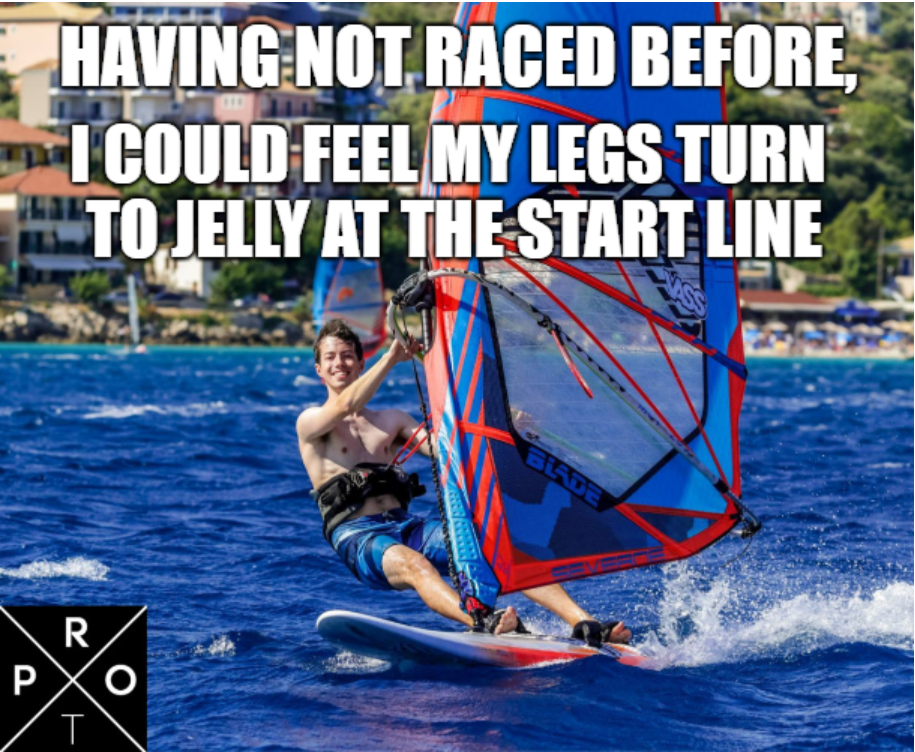 " … but with my uni at the time (Cardiff) cheering me on I soon turned my anxiety into confidence and I raced round our short course and finished 2nd. I was elated! I didn't consider myself a contender at the time because I wasn't experienced, but that just goes to show that anyone from any level can compete and have fun"
Tei has worked his way up the ranks over the years and next month will be racing with the big boys in Advanced!
2016's BUCS Intermediate winner, Pablo, (who is also one of the very few people with an official SWA-endorsed body part), said: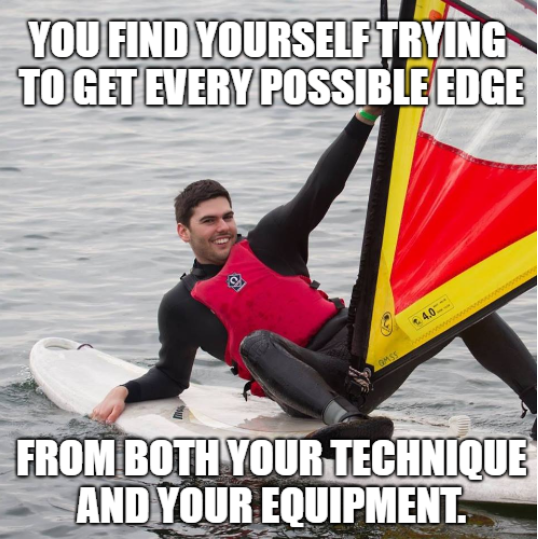 "Racing with the SWA is always exciting, and for Nationals it's a high-stakes demonstration of skill (and luck). The season I became SWA champion the title was contested bitterly until nationals, where the ultimate batch of races took place."
Top British Slalom Sailor Nick Welsh (Exeter) is another Exeter hotshot gunning for gold. Although he is only usually seen on the SWA Wave Tour, there is rumour he might be Matt Barton's replacement on the Exeter Team Racing Squad and will be a big rival for Birmingham's crown.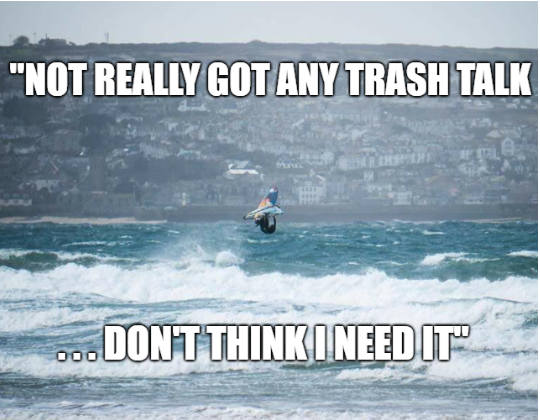 As it's his last SWA BUCS event as a competitor, Nick will definitely be gunning for gold!
Competition will be close between the boys, although as we know, anything can happen at Nationals!
Female Advanced
 Laura Bulson (Sheffield), has been training alongside her brothers over the winter and will be ready to defend her nationals gold from last year.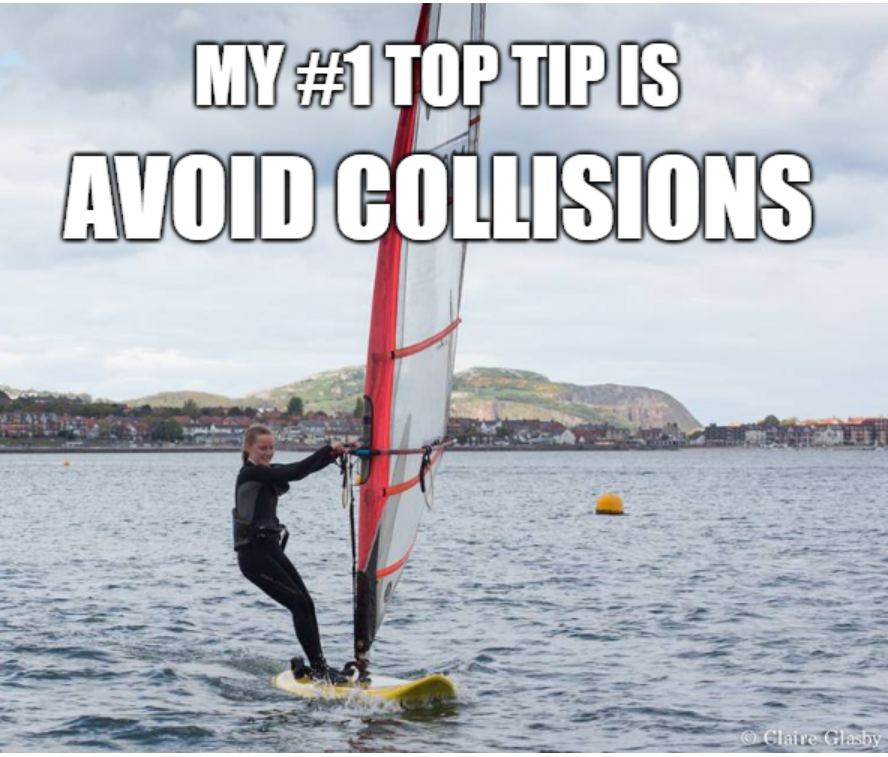 Other useful tips Laura has provided for new racers are:
Make sure you drink lots of water beforehand as there are often many races back to back- being dehydrated and getting cramp is not fun half way through a race
Don't feel pressure to use a huge sail, especially if you're light - it's more effective to use a smaller sail that you can control properly
When heading around the gybe mark, if there are lots of other people there it's often worth taking it much wider than normal so you don't get stuck behind anyone who drops their sail or crashes.
Check your kit before heading off to Nationals - when I opened mine last year it had rats nest in it and a big hole!
Hot on her heels (or should we say wetsuit boots) is some new blood: Ex-RSX British Youth Squad sailor Alice Read (Plymouth) will be hungry for victory as will British Slalom vice-champion Sarah Jackson (Bath).
If winds are light it could definitely favour Alice, however stronger winds could see a strong performance from Sarah.  With neither of these girls having been anywhere near a raceboard recently it will be interesting to see how they get on. It's not to say they haven't been windsurfing though…
Alice and the Plymouth team have been training hard despite the snow, and says: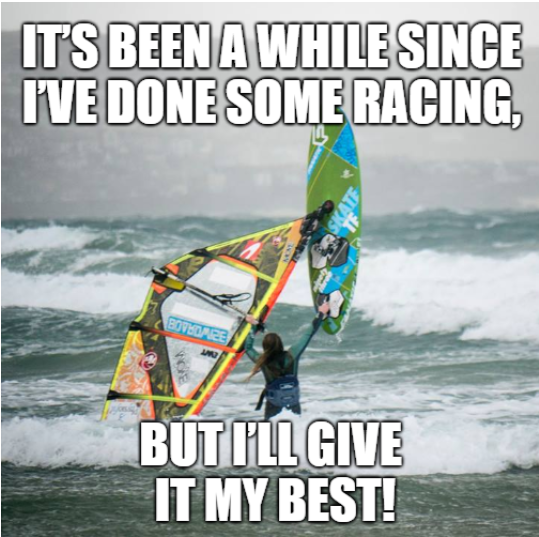 Sarah, quite openly, admits she spends more time windsurfing than in Bath and studied much of last term in either Weymouth or the Caribbean - her tutors were rather happy to see her return from Bonaire in February on crutches, so she was forced to stay and study. That injury however has taken her off the water for over 2 months now, and we are waiting to hear whether she will be fully fit to compete at BUCS.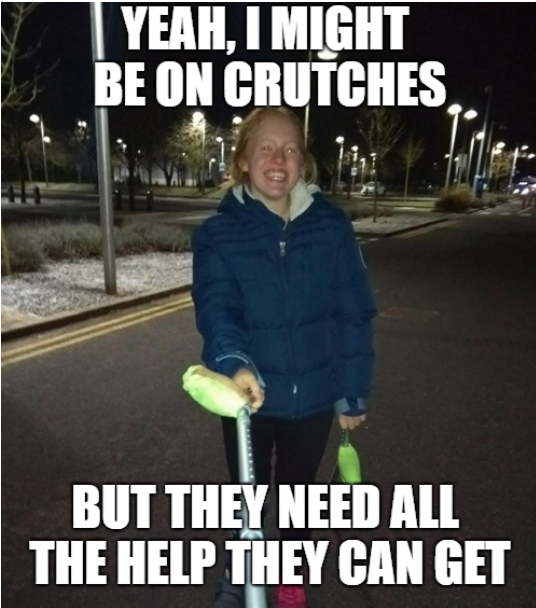 "BUCS Nationals is the most important event of my season, far more important than the PWA! I will do my best to be fit, and rehab is going well so far. As far as my windsurfing goes though, the last time I was on slalom kit I broke 5 battens so I think I have a lot to work on..."
Julia Stankiewicz (Manchester) said that coming second on last years Nationals was "a very big surprise", as she "hadn't windsurfed as much as [she] wanted to for about a year before the event." She has refused to confirm her attendance at this year's competition, yet this could possibly be playing mind games with her opponents, as Julia has been secretly training over in Poland during her gap year, but will we see her on the start lines?
Outside contenders include Alice Lyons (Bristol), who says about the racing this year: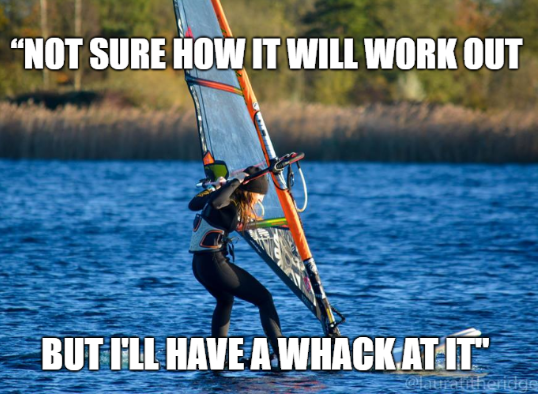 Eleanor Southwell from Swansea has also been performing well so far this season at Core events, resulting in her being high up in the series table and also a solid contender for a BUCS medal.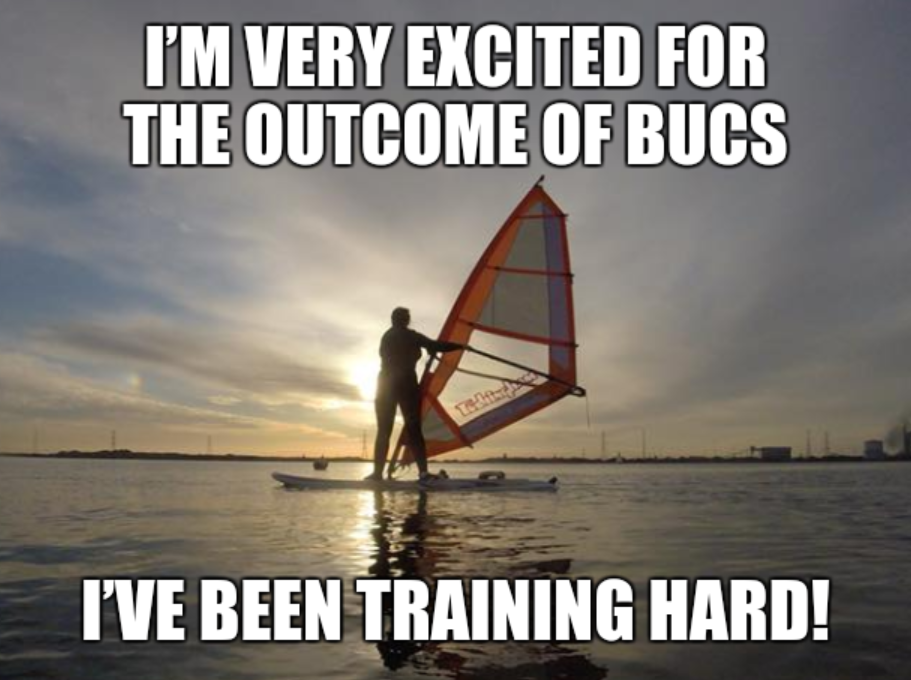 "I can't wait to bring it home for the Swans! #GWA18" 
Queen of the Wind
In the Female Series this year, ex-SWA President Jane Paddison (Liverpool), will be competing at her 7th Nationals and is slightly behind Natalia Orgonova (Birmingham) in the race for the coveted Queen of SWA title. Having won this title twice in the past, Jane has some fighting talk for her fellow competitors:
"You want to know who'll win this year?
I think that the answer is clear!
Last year I came third,
But mark my word,
I'm definitely the one you should fear.

Though Natalia's ahead in the ranking,
I'm going to give her a spanking!
She'll choose the wrong board,
Or forget where they're stored.
On her downfall, I am banking!

I've been training my life for this race,
To finally feel victory's breeze in my face.
No I'm not too old
To bring home the gold,
And I won't settle for less than first place"

Jane Paddison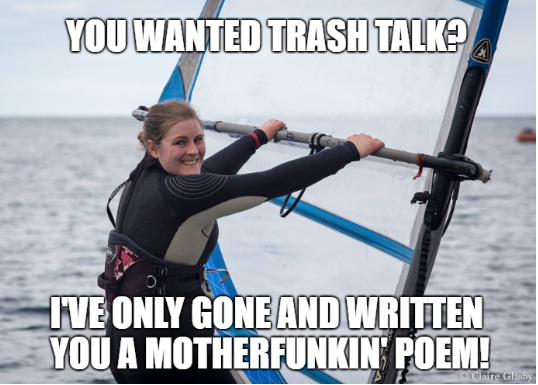 With Natalia Orgonova graduating two years ago, she is unable to compete for BUCS points, however is still able to compete for the overall SWA series rankings. She had these words for her opposition:
"I'm coming to show off my wonderfully plateau-ing, finally advanced, skills however not being a student anymore, I shall go for a happy show-off smashing-it run, while BUCS competitors are freezing their asses off waiting around to start their heat.

Clearly, she [Jane] is my inspiration. If she competes and reclaims 1st I will have lost to the best and am happy with that ...  #worsttrashtalkever"
Freestyle
Southampton dominated last year's freestyle competition sweeping up all 3 podium positions, but with Charlie Wilson and Leo Calnan both graduating last summer, it's down to Oliver Bull to defend Southampton's crown. Given that Oli spent last summer working for Club Vass, he will definitely be the one to beat, as that automatically makes him good at freestyle right?! (article's co-writers unable to agree, he was in the kitchens for half of it)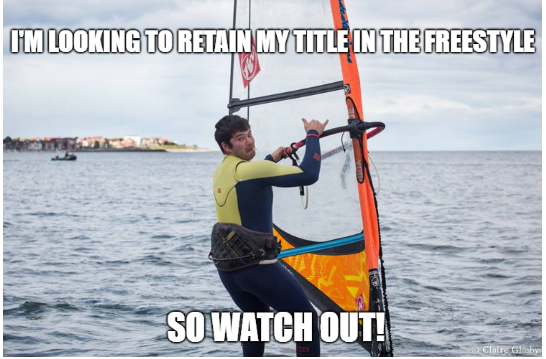 Another Club Vass show-pony on the line up is Sarah Jackson (Bath). Although she has potential to give Oli a run for his money, a major "spaka" crash in Bonaire has left her without a tendon in her ankle and a big dent in her confidence. Shaun Williams (Sheffield), James Arney (Bristol) and Matthew Duffin (Bristol), are this season's leaders in the overall rankings so far, and will be looking to convert this form into BUCS success.
Light winds could really shake up the results, as with aerial tricks no longer being possible, the playing field would become a lot more level with LWF moves being more accessible to all.
SWA diva and legend Jane Paddison (Liverpool) will definitely be throwing some shapes if the conditions go her way, and Simon Williams is also looking for light winds: "If the right conditions present themselves I'll definitely be styling out a few Ludibuoys and maybe even go for the Hail Mary" This is a bold claim, as although it has been attempted a few times, no-one is yet to successfully catch a Hail Mary move in an SWA competition.
Whatever the conditions, it's sure to be a spectacle to watch!
Team
 The team racing, arguably the most exciting part of the weekend will be hotly contested this year with lots of Universities pulling in the big guns for the event. Overall this year Birmingham 1 is leading the Team Series with wins at every event, closely followed by Bristol and then Birmingham 2 is in 3rd.
With no other Universities able to catch Birmingham so far, it's looking like sabotage from their own University Term Dates will be the only thing able to stop them! With many of their members having exams the Monday after Nationals and thus probably not being able to attend, they are hoping for some super-strong wind to give President Mattias Casulas the edge in the Advanced racing.
Committee members Thomas Sambrook and Laura Titheridge also gave us these beautiful comments: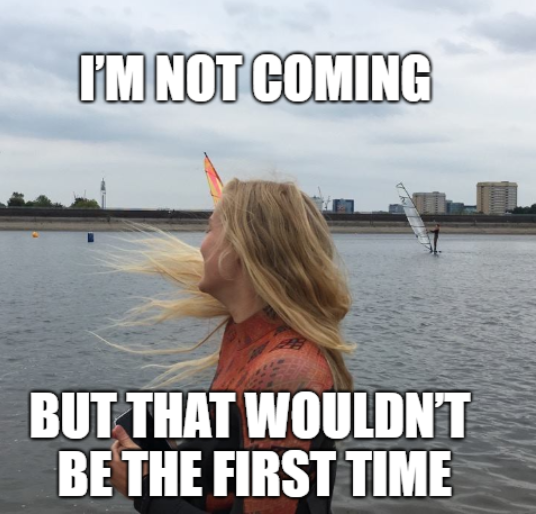 Currently snapping at the heels of Birmingham, Bristol is in a strong position to secure the team win by the end of the year, with a selection of talented riders. This is their president's analysis of how they think nationals will go for them:
"Individually, our strongest series contenders are Matt Duffin who's placing quite well in the race and male series, primarily because he's been to pretty much everything this year and James Arney who's been killing it in the freestyle series and also placing well in the male series. Alice Lyons is also within striking distance of a podium position in the female series. We're bringing our not-so-secret weapon Matt Carey along to Nationals too so we're basically guaranteed BUCS gold medals all round."
That confidence is probably not misplaced, after how they did last year. Just check out this medal-laden team photo: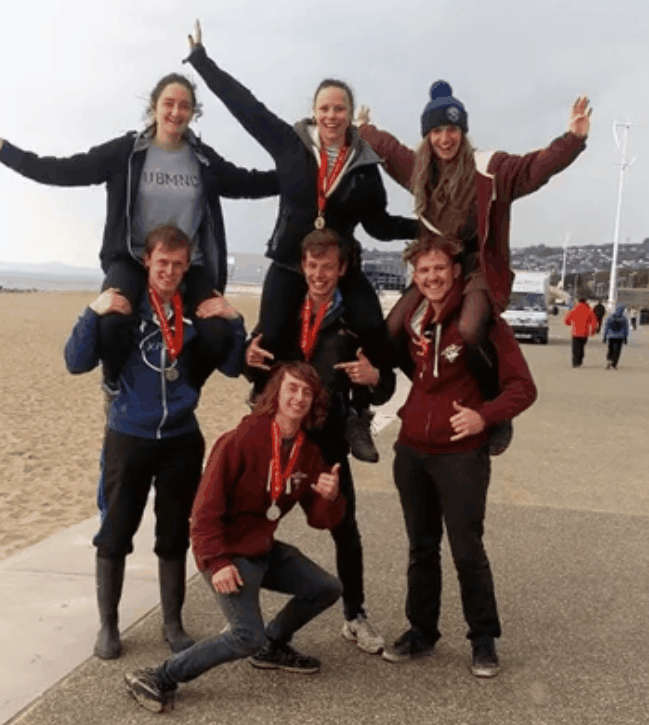 Although having had a quiet season on the SWA scene so far, Southampton says they have been training away in secret - from President Oli Bull:
"Although Southampton haven't been as present as they normally are this year, we have been putting the training in on the water at our camp. With some constantly improving beginners in Charlie Alcock and Dan Goonjur just to name a few. Race ready fresher James MacDonell "A.K.A. Keeno" is eyeing up a position on the podium this year along with Gareth Caine.
The hours of coaching on cold Wednesday afternoons from our beginner and intermediate coaches should hopefully prove to be put in to practice in this year's conclusion of the SWA finish. Watch out because Southampton are coming."
Oli Bull
Plymouth is also ready to hit it up in Colwyn. President Sam Tyler had this to say: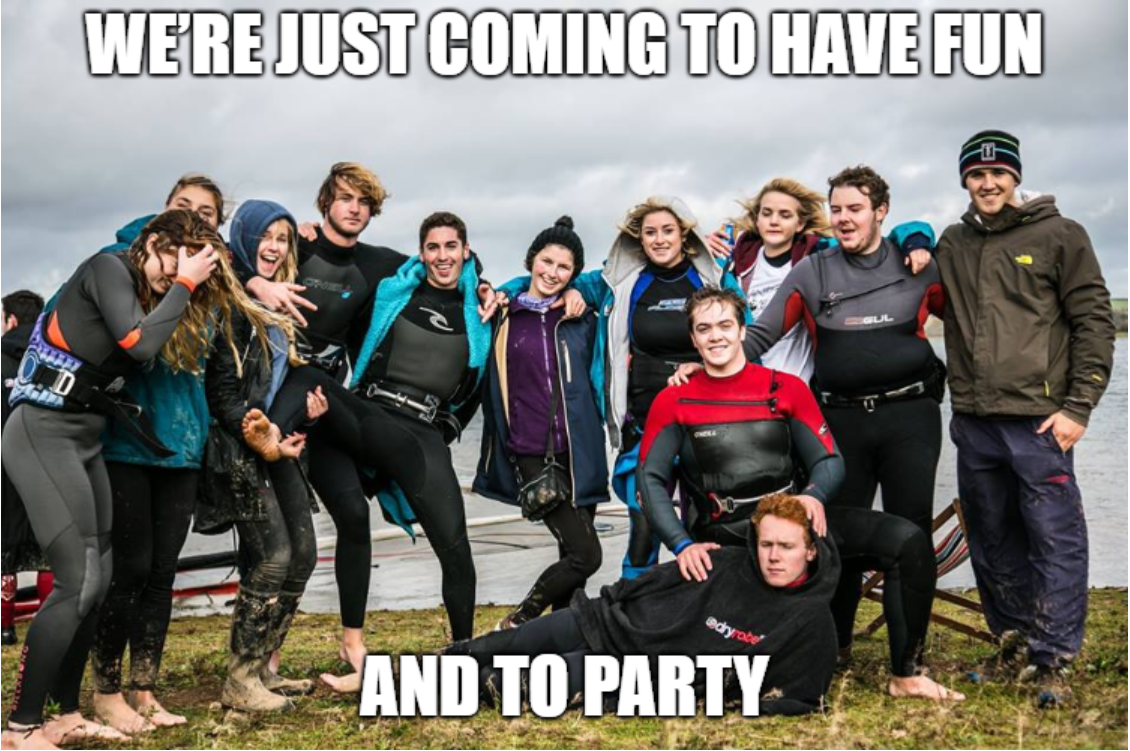 "Plymouth University are bringing a variety of talent to BUCS this year. We're all keen to get involved with a 'go hard or go home' attitude regarding both the racing and after. Regardless of the snow and unnecessarily cold temperatures, we've braved it onto the water in preparation, sending it in windsurfing, surfing and kitesurfing, even a naked photoshoot."
Max Duce, the Exeter Windriders President has given us this quote:
"When we turn up, we smash it. 
We come to win. 
Even when we don't turn up, we're still the topic of conversation. 
We know you've been missing us, but don't worry.
We're coming"
When we reached out to Liverpool for a comment on their expectations for the racing, this was Maxine's response: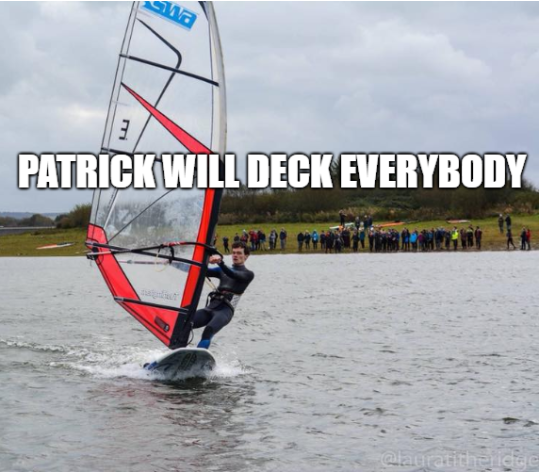 We then contacted Patrick Devaney, who gave this, slightly more detailed analysis of Liverpool's aims for Nationals:
"Despite most of our club only starting windsurfing this year, we've got high hopes for our racing prospects.
With Teifion consistently performing in the advanced races and some strong talent in our teams, we're hoping to make a big splash"
Having not raced much this year, Swansea certainly knows where its priorities lie: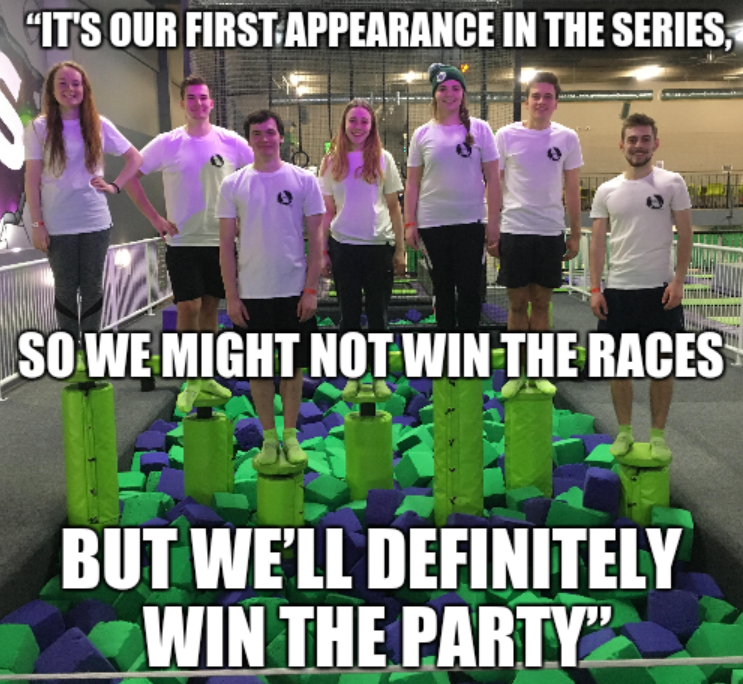 And that also brings us nicely onto the final section, and the bit you've all been waiting for...
Social

Although for some it's all about the racing, there is also of course the social side of the weekend - we refer you to point 14.0 of the Official BUCS Notice Of Race: 

Yes that's right! Only with windsurfing would you have an official policy on hangovers! And in the interests of fairness we hope as many of you try to be as hungover as possible the next morning.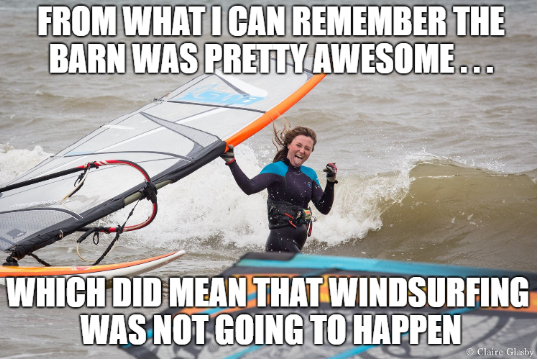 "Camping in a random building sounds like fun, almost like going back to Yorkshire. I hope the party will be lit, but knowing the SWA, it almost definitely will be"

- Matt Carey

One morning of last year's BUCS event, we found a certain racer hiding in a nearby climbing frame, this is what Bristol's president's input on the topic: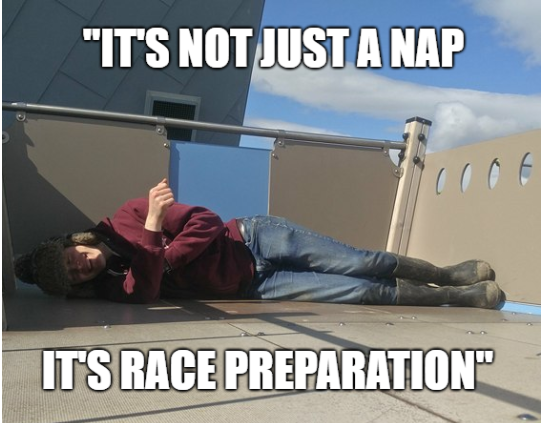 By most accounts, Sweatcalfe had an odd evening last year, let's see if he can somehow get involved in even more hilarious antics this year: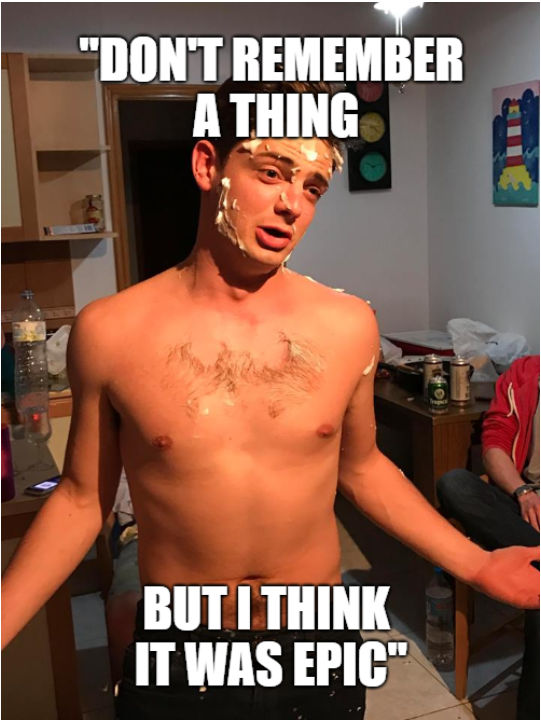 Our favourite IT-monkey Ryan hasn't get been to a Nationals yet, but he is looking forward to seeing what all the fuss is about!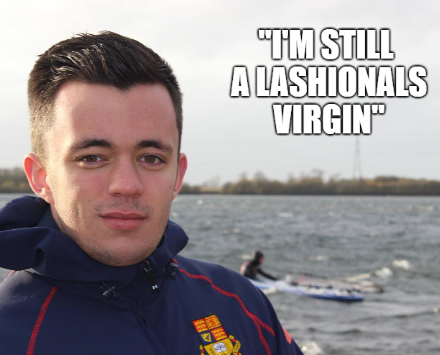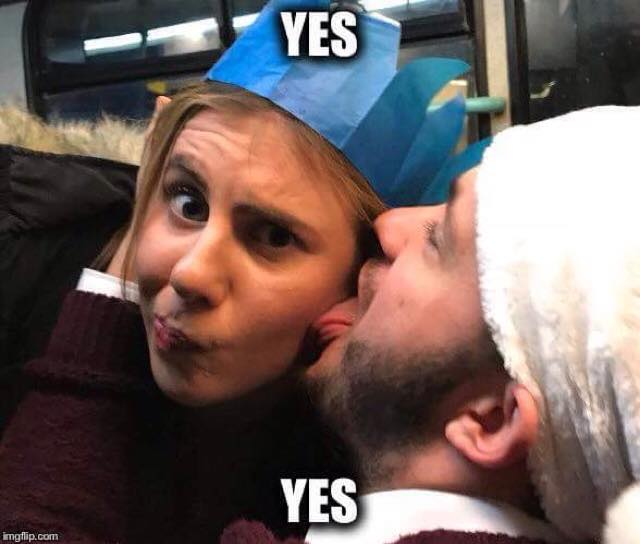 And of course who can forget the fancy dress, this year's theme is "Gratioutus Seaquels, ask your club commitee what your individual take on that is going to be, here is an attempt at a Dothraki from last year: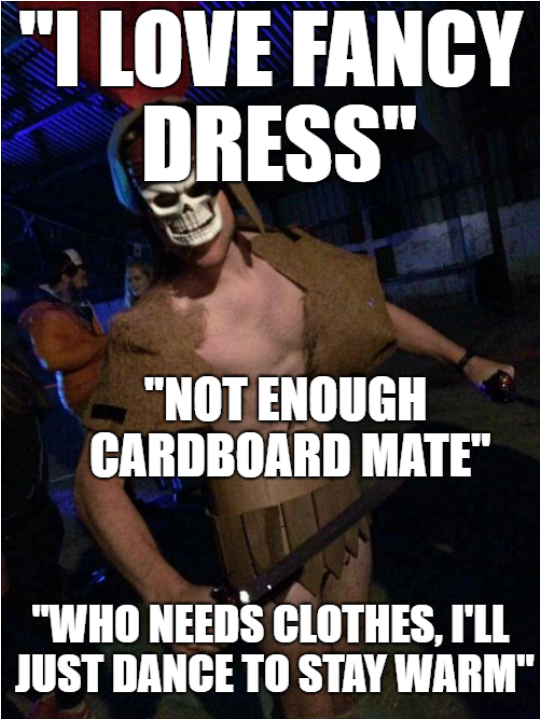 Candace Flatley has an announcement for her followers, we weren't sure about whether she's talking about her windsurfing skills or her dance moves, but not to worry, both are quite wavy...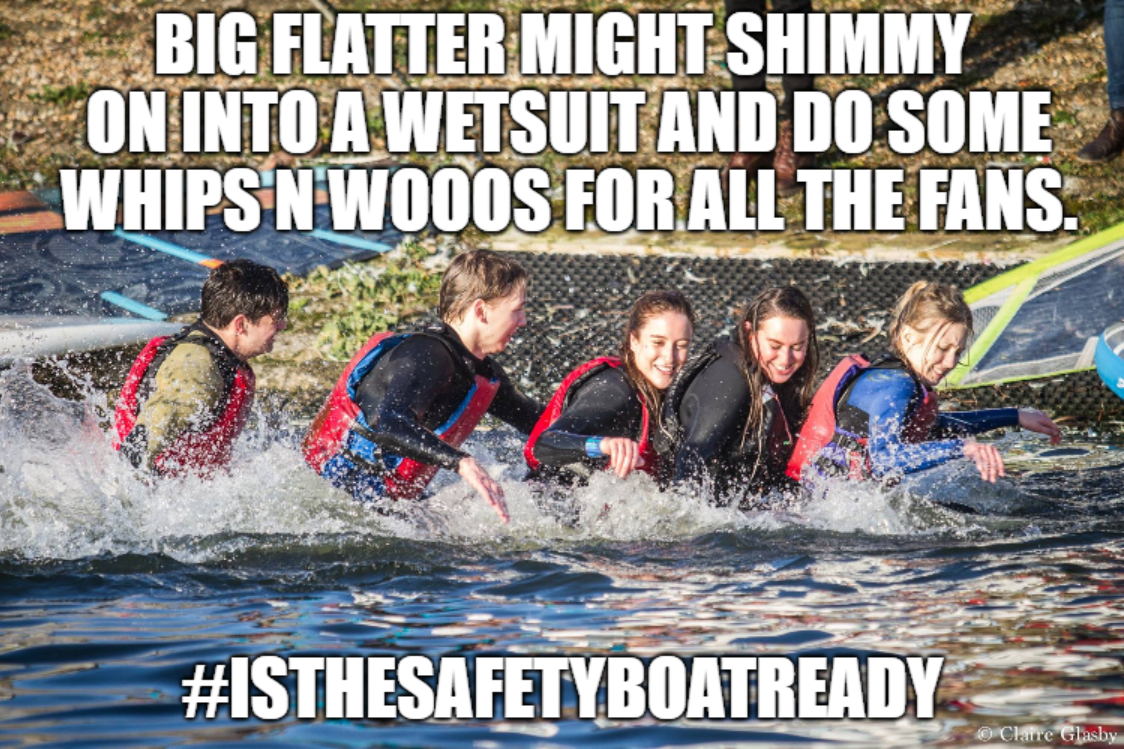 Leo Calnan, often spotted on the podium for Southampton, also DJ-ed for us last year, and had this to say about his time at Nationals: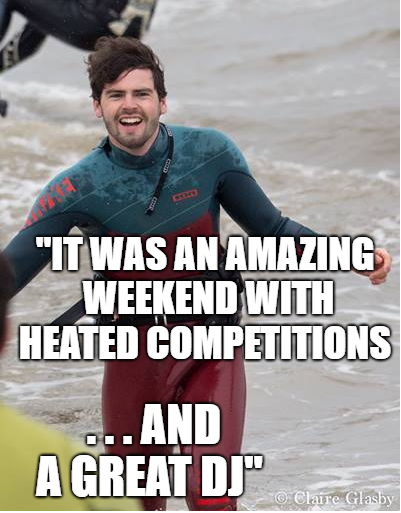 And to finish it off, some famous last words from the not-second-best Osborne brother: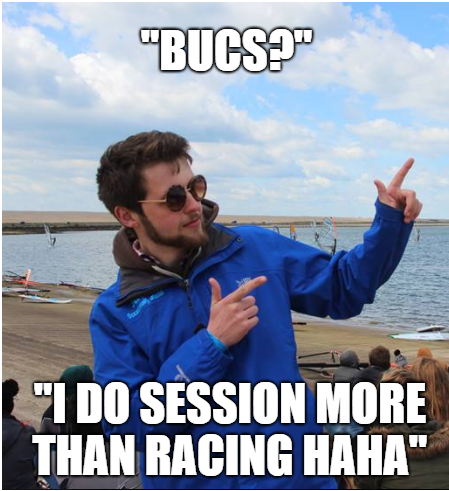 See you there! :)
Interviews & images: Luke Storry
Analysis: Sarah Jackson

Photographers:
Claire Glasby - instagram.com/cglasby
Laura Titheridge - instagram.com/lauratitheridge
PROTOGRAPHY - instagram.com/protographyofficial
Plus images from Joel Russell, Adam Shorland, Luke Storry, and more.

A big thanks to our incredible sponsors, without whom this amazing event wouldn't be able to take place, and certainly wouldn't have the massive list of prizes we have each year.
And of course a massive thank-you to everyone who contributed quotes, stories and dodgy chat for us to include!