After arriving in Bangor (the party capital of North Wales) on the Friday night, the keen windsurfers were assigned to each of their lovely host houses - all peachy and fresh from the drive up (which in fairness is a bit of a mission for most)! Here they proceeded to dump their stuff and get changed before being ferried to an exclusive #Windsurfing takeover in Feral Cat - one of Bangors best bars - to get a groove on to some premium tunes from the best selectors in North Wales.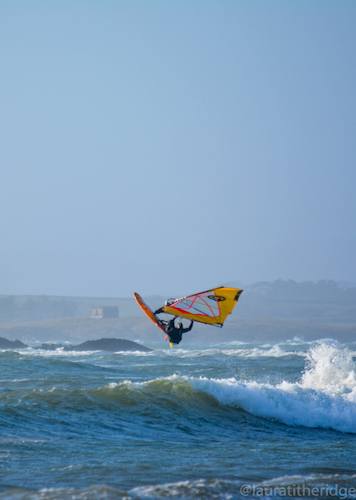 There, everyone was able to get loose and party the night away with no consideration of the taxing times ahead tomorrow morning, when they would have to battle through the hangover - with the help of a bacon sarnie - and get out on the waves.
Although it wasn't a late one (licensed only until 1.30), the combination of booze and tiredness from the drive up managed to send everyone a bit funky, so after, we all** just headed back to the hosts houses for a bit of a kip and a refresh.
As standard at these sorts of SWA events, the lovely hosts started to prepare breakie, and the smell of bacon/eggs/beans began to drift through the house. Everyone was slowly roused from slumber to embrace their hangovers with a nice cuppa and a chinwag, before heading out to see what Rhossy had in store.
With a good forecast for Saturday and no wind forecast for Sunday, Jim, Ben Bulson and I called the event on for Saturday with the first call at 11. But, when the judges finally made it out of bed, it was obvious the forecast was wildly off. The wind did finally rock up in the afternoon and a few showed exceptional keenness for a student event and had a good go on slalom gear before the waves joined us.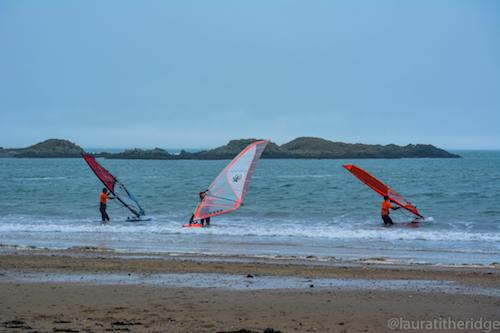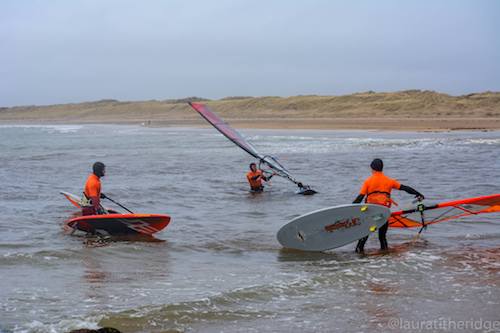 We ran the first heat at 14:30 and, although the conditions were not as epic as we hoped, there was still some very impressive sailing from the fleet! The wind and waves increased throughout and by the final we almost had enough wind for jumping, but decided to keep the judging format at two waves, no jumps. The four finalists kept the judges busy with loads of waves ridden. Charlie Haslam was riding very well, but didn't manage to find any set waves in the final. Nick Welsh and Shaun Ashmore were both pushing hard but fell on a few waves that would potentially have put them ahead. The eventual winner, Rose Greensmith, not only scored the best turn in the final, but she put all her local knowledge to use picking off waves that ran for longer, allowing for multiple linking turns, and led the final from the start. At one point it looked like Nick was going to challenge but fell on an important turn before Rose strengthened her position once again, ultimately taking first place in the tightly fought final!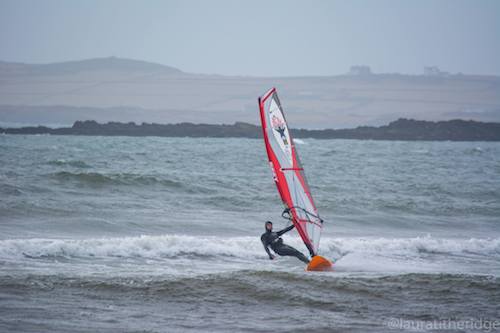 Rose has only been wavesailing for a few years, and having witnessed her improvement in that time has been amazing! Having entered SWA wave competitions before she could confidently water start, to see her come back and take down a male dominated fleet really proves this series is for anyone and everyone and can be a great learning platform.

After a wild day on the waves, everyone headed back to the host houses around 5pm for a bit of a chill out, a shower and some grub. This time allowed everyone to catch up on some of the drama from the day, complain a bit about the cold, and envision what the rest of the night could have in store. All whilst munching on a selection of the finest, artisan pizza's the hosts could source, flown in directly from Aldi: from box to plate in under 15 minutes, of course.

After dinner, and fighting off the urge to nap, the transformations slowly began as costumes, rabbit ears and face-paint littered the halls, and each club became something entirely mad.
To lubricate throats for the night ahead were pre's at the host houses, and once everyone was suitably wavy, we all headed out on the lash (probably in the rain), towards Bangor's most prestigious nightclub, Cube. In traditional windsurfing style, we partied hard until the lights turned on ("it was a bloody brilliant night" - Tom) and everyone made their way back to the hosts houses to get at least a couple of hours, before 'morning'.
The morning light revealed a few sore heads, but overall good spirits throughout, and encouraged with a butty and a brew, everyone managed to pack up and head out with a smile around midday.
Tom Pidden — SWA Wave Co-ordinator
Danni Thompson — Bangor University Windsurfing Club Committee
Photos courtesy of Laura Titheridge
Windsurfers try surfing!
Windsurfers eschewing their sails can be a touch-and-go experience! We may be told that we'd be naturals on a traditional surfboard but it's not a given. Here are some of the highlights (and bloopers) of our sail-less adventures!