Another legendary AK weekend is over and South Wales treated us well, with glorious sunshine and some sweet windsurfing. The 17th annual weekend windsurfing festival was yet again an incredible one, read on to hear about how it all went!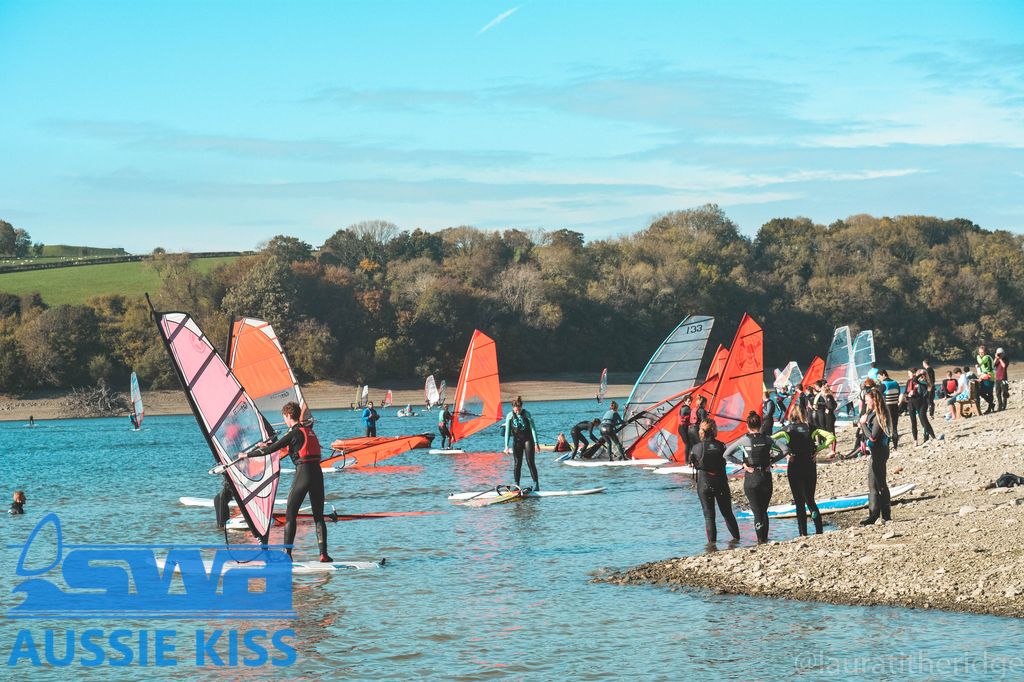 The Friday night started with the uni clubs rolling up to the magical wonderland which was the Llandegfedd campsite, with beautiful lighting leading all the way down to the party tent. No matter how far the trek or how tired the drivers were, everyone had a good old boogie and exchanged stories about their windsurf filled summers. Once the party tent started to wind down, people started fumbling about in the dark, trying to find which tent was theirs to curl up in.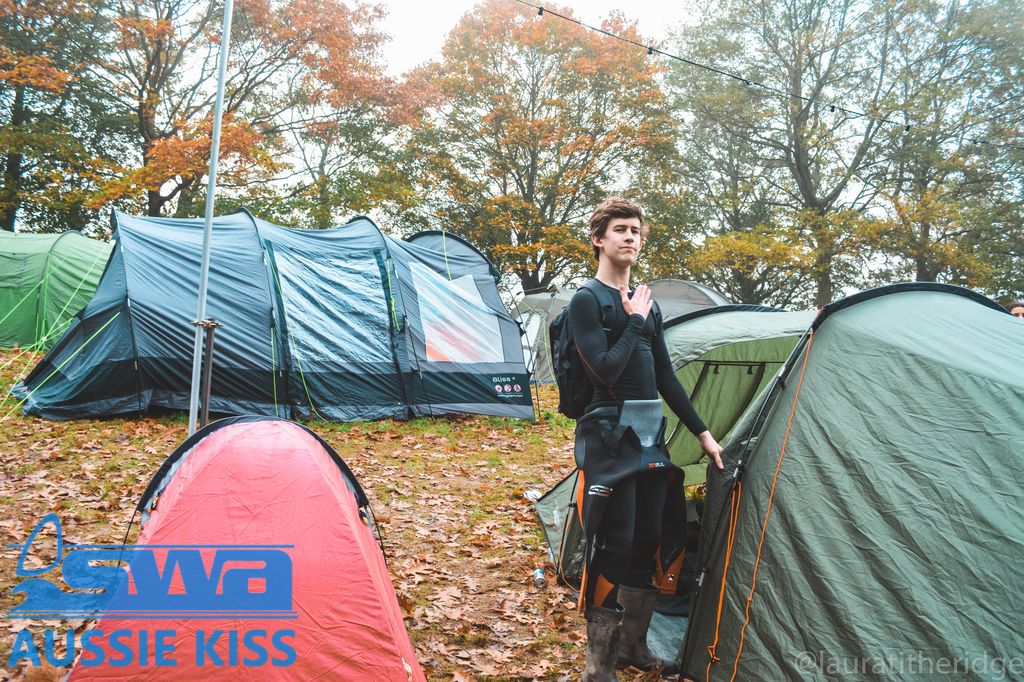 Saturday morning we were woken to the infamous AK wakeup call (definitely not the highlight of the weekend) and a mystical fog covered lake. Windsurfers made their way down to the lakeside café for some lovely breakfast butties to get them ready for a jam-packed day of windsurfing and dancing by the lakeside.
Once the fog had lifted, the sun shone on a lake full of beginners darting about with their newly learnt skills. The conditions were absolutely perfect for learning, which gave them the run of the lake whilst the intermediates and advanced partook in clinics ranging from light wind freestyle to foiling.
A big shout out to all those who instructed and lead clinics, they made AK truly legendary by sharing their mystical windsurfing skills.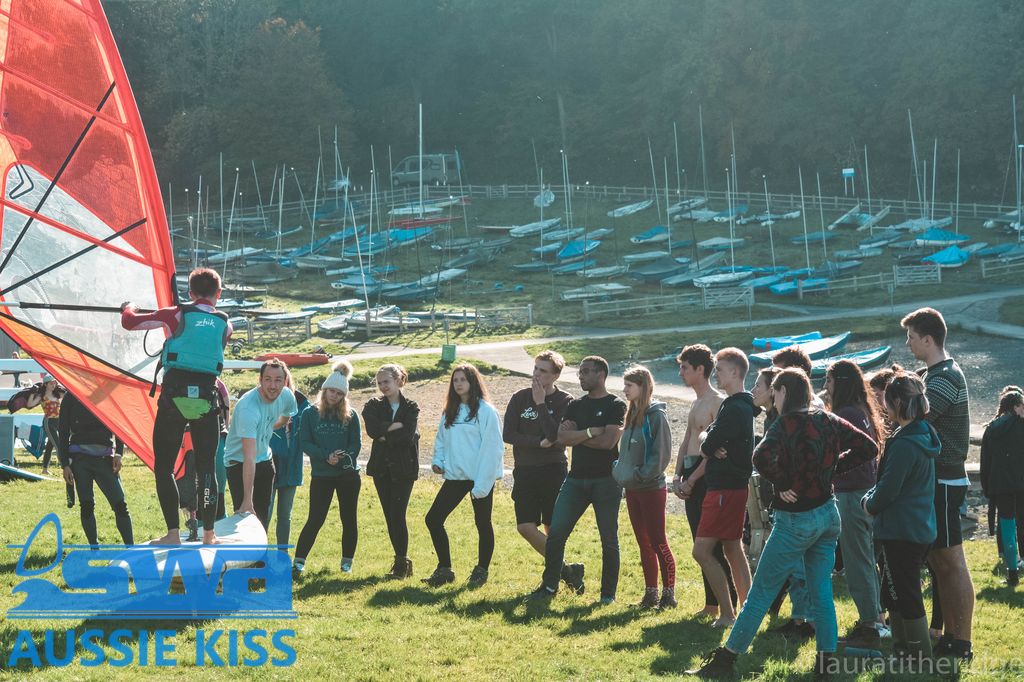 Throughout the day there was some wonderful free sailing with the great demo kit provided by Boardwise, so our windsurfers could go out and practice the helitacks and Hail-Marys they were taught throughout the day.
We were also blessed by the presence of Jamie Barker, from Mark Warner, who gave us some juicy info on how to bag a season teaching windsurfing in one of their sunny resorts. He also had an eye on the instructors and how this year's beginners were putting their new-found knowledge of windsurfing to the test on the Mark Warner Beginner Beach.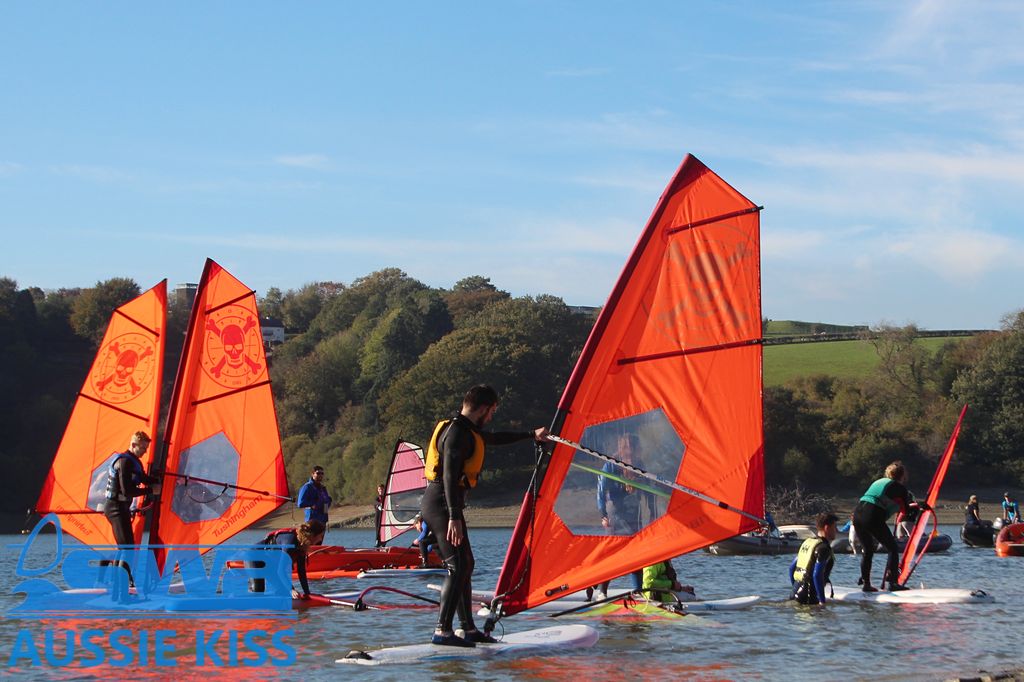 When we weren't windsurfing, we were soaking in the surprisingly warm October rays on the lovely lakeside, drinking as many of the free cans of RedBull we could get our hands on, which were provided by the amazing South Wales RedBull team.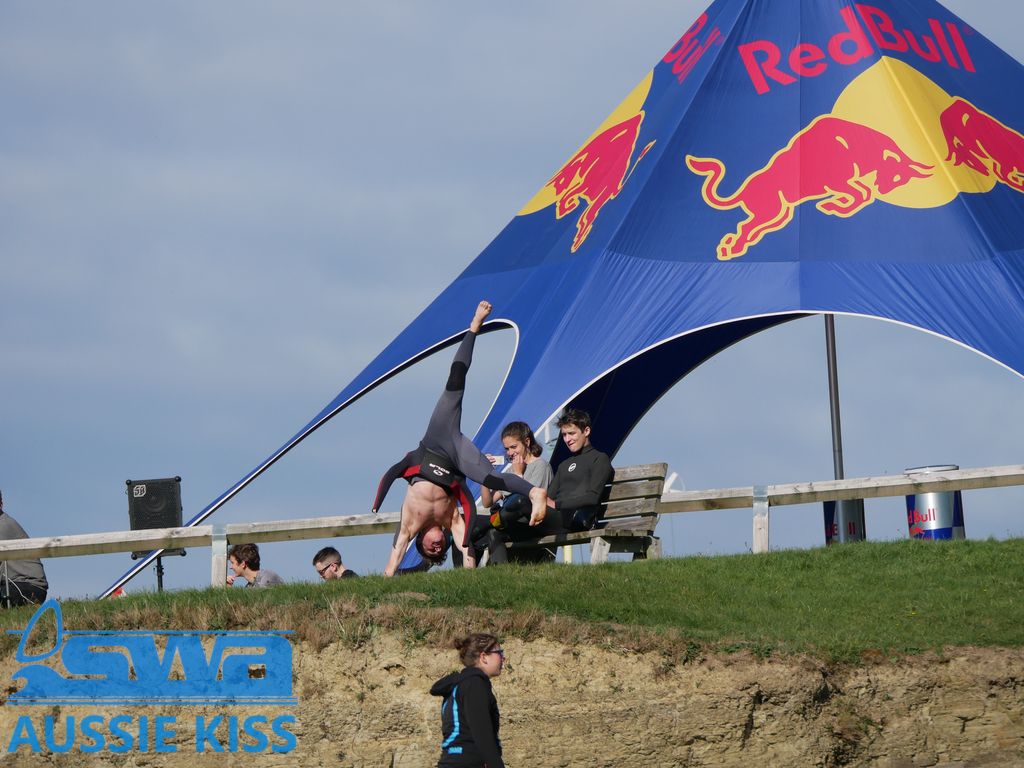 After we got packed up for the day, it was time to glitter up for the legendarily mythical night of fancy dress. There were myths and legends of all kinds: from the Loch Ness Monster made up of Bath windsurfers to Bristol's seven blind mice alongside glittery dragons dancing with the numerous Notts' Robin-Hood-men-in-tights and dozens of Exeter Elves.
The night was one to go down in the history books with ex-Southampton president Leo Calnan laying down some tasty tunes in the party tent, occasionally joined by UWE's Hugo T. As the night progressed, there were wizard hats and staffs of cans making their way around the party tent. There was all sorts of crazy dancing and chanting and some people mysteriously ended up wearing other people's face paint.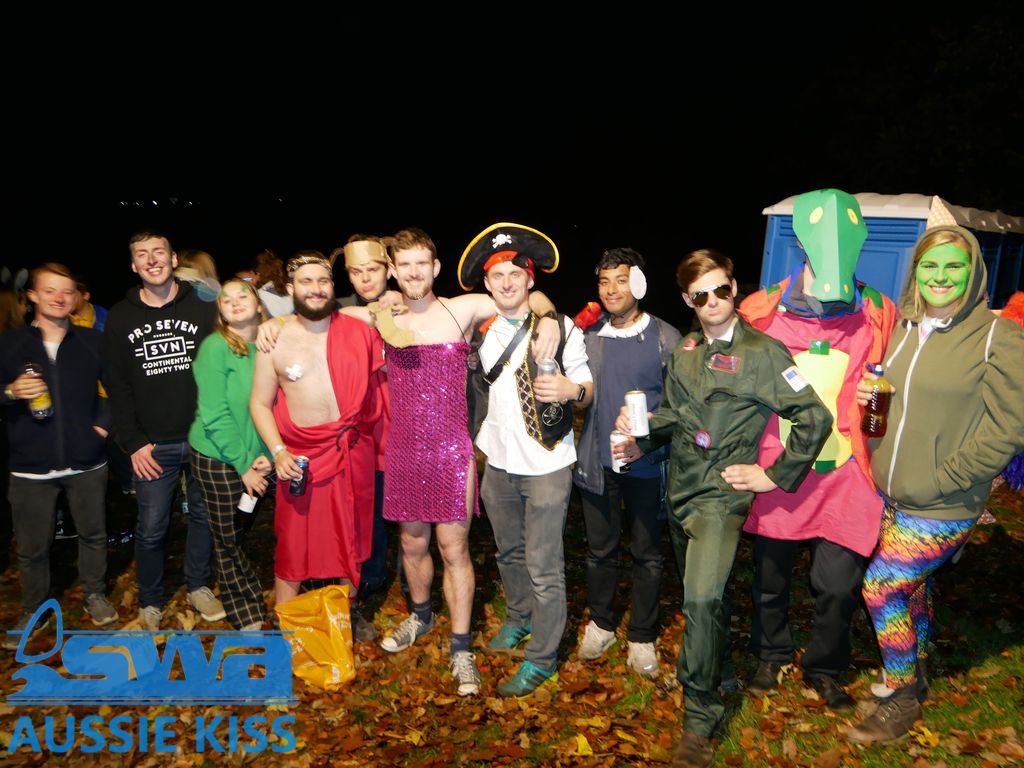 Sunday morning we awoke to another glorious AK wake up call from our esteemed (and loud) president. Some windsurfers had somehow found themselves in the wrong tents, with misplaced can-staffs and other various pieces of costumes. Everyone then headed down to scran a second set of delightful breakfast butties. Windsurfers also congregated to the RedBull tent to nab some cans and recover on the big, comfy bean bags they supplied nearby. A day full of team racing and freestyle commenced with some cultivated commentary from our very own Taffy and Tom.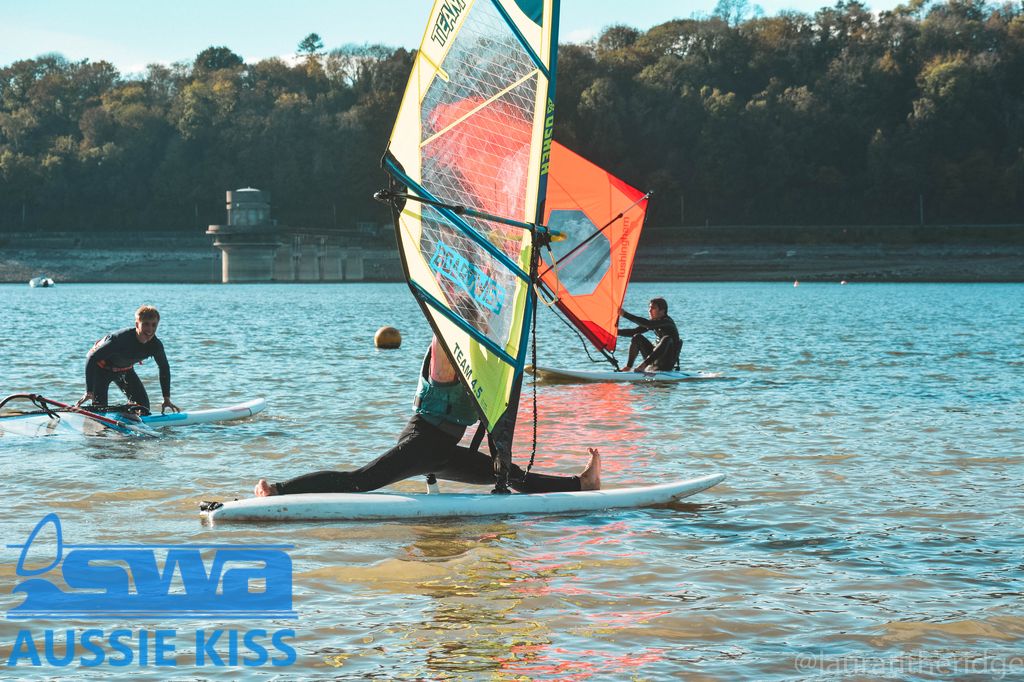 The day went on with some more fabulous free sailing with shouts about blue silicone wristbands coming from the incredibly persistent beach sign-off officers, Rhea and Laura. Windsurfers continued to glide about the reservoir whilst the beach was lined with spectators listening to the witty commentary of Taffy and Tom, who were enjoying their shared microphone just a tad too much.
Once the windsurfing was done for the day, everyone gathered together for the final debrief. The results of the team racing were announced with Birmingham taking the gold, then Plymouth and Bath in 2nd and 3rd. Thomas Sambrook (Birmingham) stayed on the podium to also claim the first place in the freestyle competition, followed by Tom from Swansea and Charlie from Birmingham.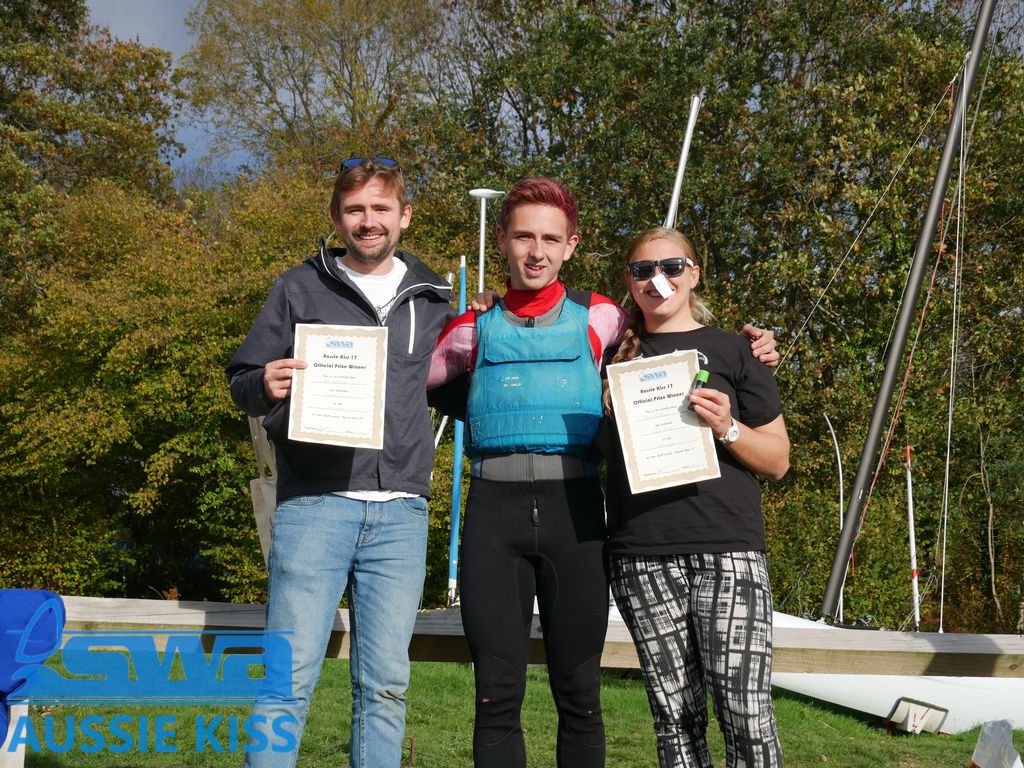 Other awards were given out as well, with the Keenest Fresher going to Joe from Birmingham for being so keen that after the Friday night party he put on his wetsuit at 3am to go windsurfing!
There was the Best Instructor award which went to David Ayre (aka Crazy Dave) for his enthusiasm and the wonderful windsurfing knowledge he passed onto the beginners on the Mark Warner Beach. There was also the infamous Taffy Osbourne award which went to Will from Birmingham for what was described as "self-marinating", although we're still unsure as to what that actually means...
---
On behalf of the SWA and everyone that attended Aussie Kiss this weekend, we want to thank our amazing sponsors, especially Mark Warner who sponsor our beginner beach and Boardwise for supplying us with awesome kit. Thank you to RedBull for the bean bags and cans of RedBull - it definitely kept us alive and kicking this weekend. Finally, thank you to Llandegfedd Reservoir for hosting us for a fantastic weekend, you were very gracious hosts.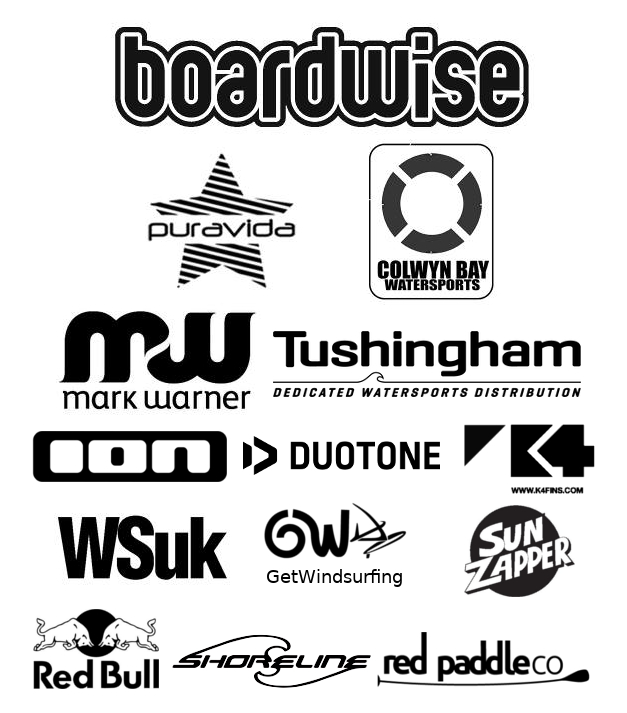 For those who missed out, never fear! There are plenty of events coming your way throughout the year. We've just got back from an awesome time at Liverpool with Northern Monkey, which was filled with sunshine, super wind and some of the cheapest drinks in the land. Swansea is in two weeks, and tons more next term, keep an eye on our FB page and this website as we have much more info coming very soon!