Well it finally happened, after nineteen long months the SWA returned with its first unforgettable event. The weekend saw friends reunited after being apart for so long, new bonds formed, and our community coming together once more.
It started as always on the Friday night when clubs from across the country descended on the idyllic Cambridgeshire countryside, negative lateral flows in hand. To the joy of all who had attended AK 19, the only body of water in sight was that of the reservoir and no flooded car park or campsites were to be seen. Tents were swiftly erected, and everyone quickly settled into their home for the weekend.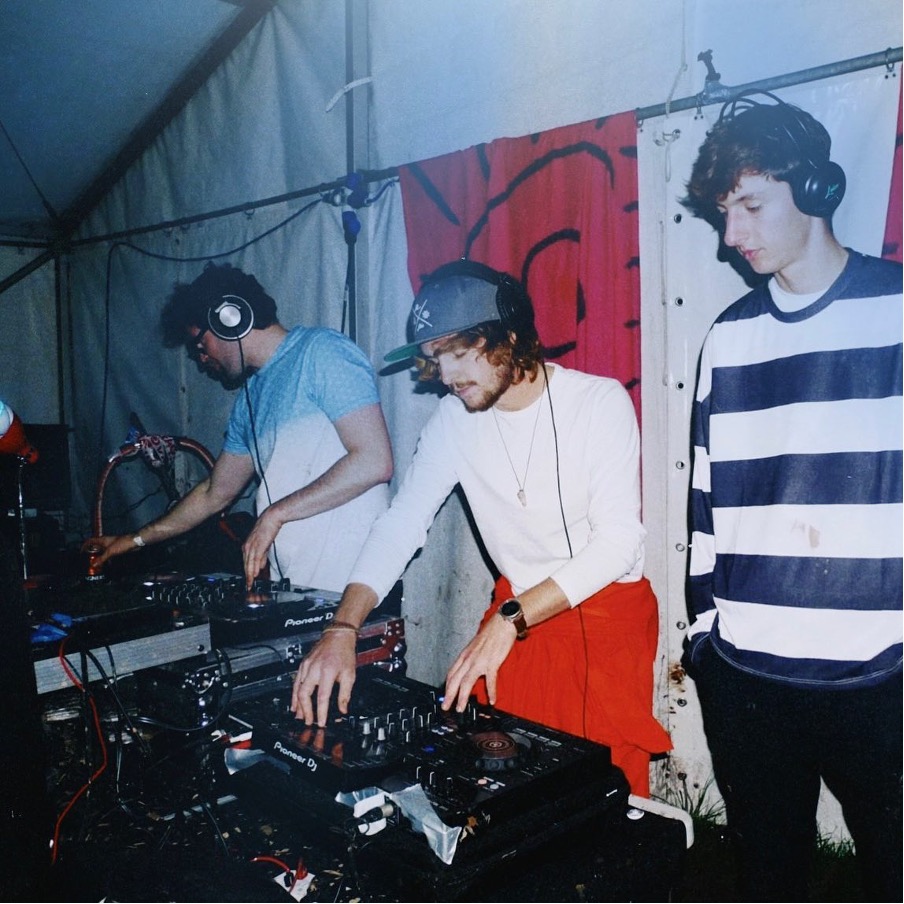 Soon tinnies were gathered and we all began catching up with friends not seen in nearly two years. Before long, the party had started in the fantastic main hall and, with the SWA's very own Leo Calnan on decks, the room was soon filled. With the party over, many took to continuing the night by gathering outside Liverpool's camp. Starved of their friends' company for over a year and a half, it was a night enjoyed by all. 
The morning wake-up call rolled out far too early, and, groggily, everyone left their tent for some much-needed breakfast and coffee before the briefing. As the fog began to lift, beginner sessions got underway with a staggering number of keen beginners taking to the water on Boardwise's fantastic kit despite calm conditions. For those not on the water, our wonderful sponsors Palm Culture put on a yoga session. Although the wind was not on our side on Saturday all was not lost for intermediates looking for something to do with several clinics running throughout the day. The appearance of a couple of dogs was also welcomed. A crowd favourite was also to make a return to this AK with Charlie Alcock's beloved Salsa classes. Still, I think it's clear that for the most part we should stick to windsurfing.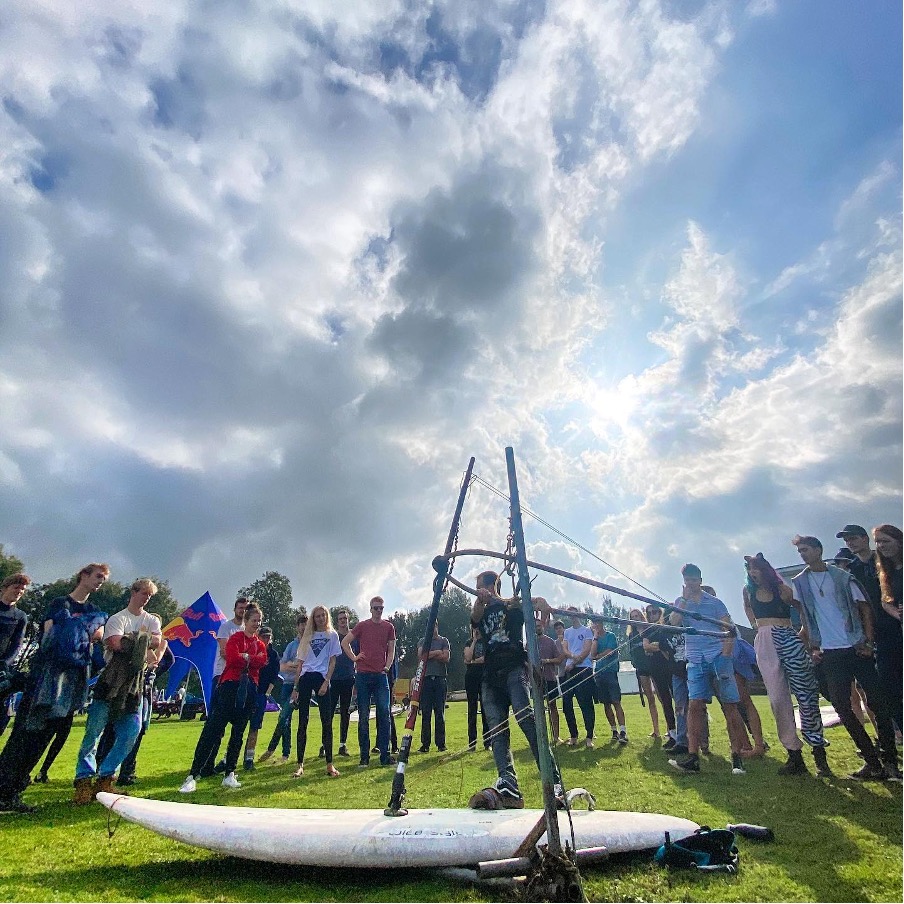 The night began with music from our talented members and led by Jake Collinge. Soon takeaways were being enjoyed by a number of clubs and the chill vibes continued as people took time to relax. Costumes were donned, including everything from Ice Age animals to 1920s gangsters. If only one thing can be said about clubs, they really can get creative with a theme. A huge game of Deutschland Erotica descending into chaos made it clear: the SWA weekend was back. The party hall was soon full again with Leo, Sax A Dan and the guys from Palm Culture taking the stage. With cracking sets from all the guys that played it was surely a night to remember. 
The Sunday morning arrived, thankfully with more wind! Before long everyone and their aunt was out on the water and individual freestyle was underway with the wonderful Zoey Davis (Liverpool) taking the win. Next up was team racing with three heats and a final that saw Liverpool, Bristol and Birmingham taking 1st, 2nd and 3rd. The day rounded out with team freestyle which Liverpool also won.
Before long it was prizegiving which included the raffle for our fundraiser for Surfers Against Sewage. We raised a staggering £532.70 for the organisation! The news also broke that the fantastic Nic Hanson would be stepping down in their role as president of the SWA and will be replaced by the equally lovely Glen Griffiths and Jack Alston. I think I speak for everyone in thanking Nic for all the work they've done over the years!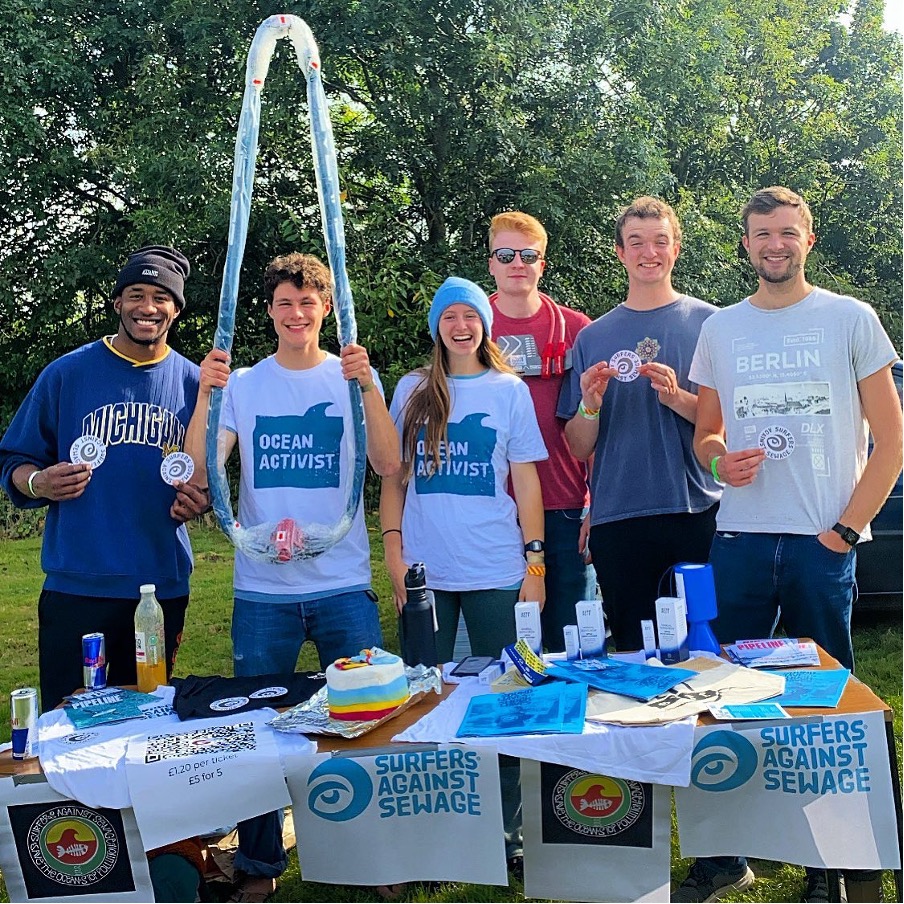 A special thanks must also go to our brilliant hosts Grafham Waters and the security team for keeping us all safe. Also, many thanks to our sponsors especially Boardwise, Buccaneers, Palm Culture, and many others. Without you events like this wouldn't be possible! A final thanks must go to all the instructors that helped over the weekend, those who ensured our welfare out the safety boats, and to the committee for organising the event. As our first event back in a COVID world, I'm sure none of us will forget it.