The second weekend of March marked Edinburgh University Windsurf and Surf Club's debut into host
Despite the long journey, our windsurfers arrived in Edinburgh in time to refuel with a tinny before heading to the first attraction of the weekend - 32 Below. Once everyone was gathered and had showcased their questionable beer pong skills it was time to move onto the next bar… in classic windsurfing fashion plan A didn't work, neither did plan B. After an impromptu tour of Cowgate we settled for a night deep in the vaults of Hive. Dancing and drinking aplenty completed, we headed home for some much-needed sleep.ing an SWA wave event. Windsurfers travelled far and wide to experience Scottish wind, waves and natural beauty.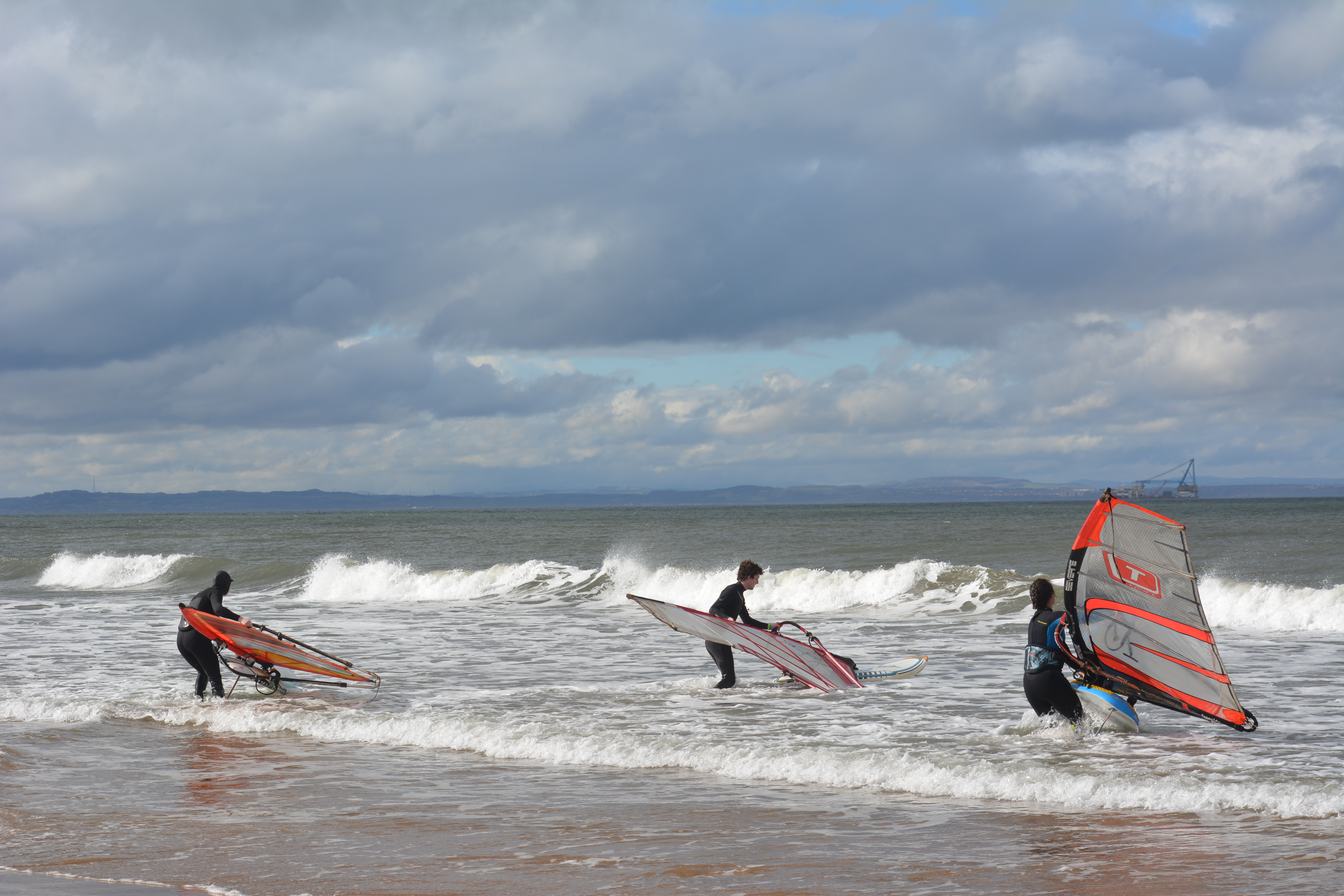 As the new day dawned the (not-so) well-rested windsurfers rolled out of bed and after breakfast, were ready for the day ahead. Despite an unfavourable forecast we headed to Gullane Beach where upon arrival we were greeted by wind and chop a-plenty. With the local windsurfers scared away by the forecast, we had the whole beach to ourselves - and we made the most of it.
After a morning of blasting around in the Scottish sun, it was time for the competition. Although the wind had eased up a little some baby waves were a welcome addition and spectators were treated to party waves and freestyle. It was great to have almost everyone involved in the competitions and give it a go regardless of it being their first steps into wave sailing. Congratulations to Tom Sambrook (1st - Birmingham), Bella Antcliff (2nd - Edinburgh), Catriona Lindsay (3rd - Edinburgh) and Elise de Wildt (4th - Birmingham) for their performances in the finals. Competitions complete it was time to head home for food and a quick nap before heading out into Edinburgh for another night of SWA antics.
| | |
| --- | --- |
| | |
After some final costume modifications and a lot of yellow face paint, the refreshed windsurfer gathered for what was potentially the most ambitious crossover episode ever - featuring the Simpsons, Mystery Gang, Powerpuff Girls and a Teenage Mutant Ninja Turtle. Pres saw the return of the octa-bong which was plenty enough to get everyone ready for the big night at Atik.
After a slow start the next morning, windsurfers started to show up at Silverknowes Beach. Although the winds had shifted and dropped off a few keen windsurfers still headed out to practice their freestyle skills and wave riding whilst others opted to explore Edinburgh and its beaches.
As the afternoon came to a close we announced the weekend's wave-riding champions, packed up our kit and waved goodbye to our friends and Edinburgh. Thank you to everyone who joined us for Edinburgh's debut event and made the weekend so unforgettable!